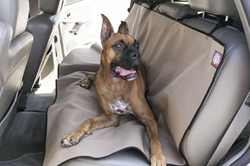 Pet car seat covers are made of a durable, heavy duty, waterproof nylon fabric that keeps messes from soaking through onto the underlying car seat, but is still comfortable to the touch and totally machine washable.
(PRWEB) August 13, 2014
HomeThangs.com – the Online Home Improvement Store has made their goal to deliver the right product to the consumer. With that in mind, shopping and home design tips, as well as special product selections are being introduced.
Dogs love riding in cars, but they aren't always the cleanest passengers. Dog hair, tracked mud, drool, and worse offenders can ruin the upholstery in a car, leave unpleasant odors, and even damage the clothing of unwary passengers. HomeThangs.com has introduced a guide to durable pet car seat covers, which can help protect car seats while giving pets plenty of room to roam and get comfortable.
The problem with just laying down any old piece of fabric in the back seat of a car is that it's almost impossible to secure a sheet or a towel against roaming dog feet. A big, well tucked-in sheet might stay put for a while, but the more it gets walked on, the more it's going to get pulled out of place, and the less effective it'll be. Pet car seat covers are specifically designed to attach to the seat of the car so they'll stay in place, even with heavy use by a wiggly dog.
Unlike sheets and towels or blankets, pet car seat covers aren't absorbent; they're made of a durable, heavy duty, waterproof nylon fabric that repels liquids and keeps them from ever reaching the underlying seat, rather than slowly soaking through. And because pet car seat covers cover the entire back seat rather than just one spot, even if the mess gets spread around a little, the whole area is protected and the entire mess can be removed at once.
Better still, pet car seat covers are designed for exactly this kind of abuse, so most cleanings involve little more than a good wipe down with a damp cloth. That said, they can also be machine washed as needed. Because they're waterproofed, they're less likely to stain or discolor than other materials, but are still softer and more pleasant to the touch than something like a large tarp. Pet car seat covers are also very thick and tough, so they won't tear easily, even with a dog that digs at fabric.
While most pet car seat covers attach to the back of the seat they're covering and simply drape down over the seat itself, some are designed to attach to the headrests of the front seats as well, creating a sort of sling or hammock between the back seat and the front seat. This simple design feature keeps dogs from falling onto the floor at quick stops, and prevents them from climbing up into the front seat.
Pet car seat covers aren't just for the back seat, either. While front seat covers offer a little less coverage and protection, they're more than adequate for a pooch that just wants to sit still and stick his head out the window. There are also pet car seat covers designed to fit in the cargo are of a van or SUV rather than a seat, making it possible to bring a dog along for a trip even when all the seats in the car are occupied.
Pet car seat covers are mostly designed for people who like to go out and get messy with their dogs, but they can also be a life saver for occasional trips to the vet. A waterproof cover will prevent anxiety-induced messes from making it through to the upholstery, and because they're designed with small built-in slits for seat belts, it's easy to secure a cat carrier or dog kennel in place without putting it directly on the car seat.
For a more in-depth look at pet car seat covers, check out the full article here, or check out more great products from Majestic Pet.
HomeThangs.com is not only a home improvement superstore, it also provides expert design tips and a comprehensive shopping guide, taking the ideas from professional interior designers, and offering tips to the consumers on how to pick the products to best suit their needs.