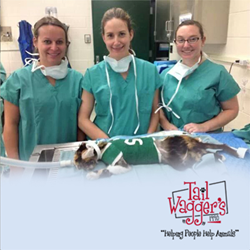 Tail Waggers does more to help pets in our community than anyone, and they deserve our full support.
Livonia, MI (PRWEB) September 15, 2015
Bowker Insurance Group, a locally managed insurance firm with offices serving Livonia, Plymouth, Canton, and the areas west of Detroit, is announcing a charity drive in conjunction with Tail Waggers, a Livonia-based pet animal welfare organization.
For over 25 years, Tail Waggers has provided the Livonia community with affordable spay and neutering services, pet vaccination options, and a pet food pantry to ensure that local pets are in peak health. In addition to providing pet care and treatment, Tail Waggers works to educate the local community on the importance and benefits of spaying and neutering pets to help reduce the number of animals euthanized each year.
"Tail Waggers is a pillar of the Livonia community," says Cheryl Bowker, owner and operator of Bowker Insurance Group. "Tail Waggers does more to help pets in our community than anyone, and they deserve our full support."
Mobilizing a large network of professional and personal contacts, Bowker and her team and reaching out to residents of Livonia and the surrounding areas to advocate for pet spaying and neutering, as well as gathering funds that will be used to ensure that Tail Waggers is fully funded and able to continue providing pet wellness services. The Bowker team is also working up a social media presence that they hope will pull in supporters from all across the Detroit area and the state of Michigan.
As well as assisting Tail Waggers in their mission to keep animal euthanizing to a minimum and keep pets in the Livonia area healthy, Bowker Insurance is working closely with several other local charities in an ongoing community involvement campaign dubbed 'Agents of Change.' Says Bowker, "We plan to find a new local charity to support every thirty to sixty days over the months to come."
Readers who wish to help Bowker Insurance Agency as the assist Tail Waggers in advocating for animal wellness are invited to visit the agency website and make a direct donation to the cause from this page: http://www.bowkerinsurancegroup.com/Raising-Hope-Waggin-Tails-Bringing-Smiles_20_community_cause. Readers who wish to review the other local charities supported by the Bowker Insurance Agency team are invited to bookmark their Community Causes page, located here: http://www.bowkerinsurancegroup.com/community-cause.
About Bowker Insurance Group
Bowker Insurance Group's mission as a team is to provide the best insurance and financial services in the industry. Their number one goal is to protect the assets for which their customers have worked so hard, and to help them invest so they may retire with the right amount of money. Bowker's success is measured by customer satisfaction and the value brought to their lives. The capable agents at Bowker may be easily reached by calling 734-525-9610.