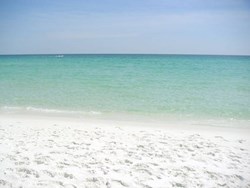 Destin, FL (PRWEB) February 12, 2014
While some vacation rental companies discourage spring break reservations, Easy Street does not. They cater to responsible college students who are looking for a week of sun and fun at the beach.
Easy Street does not, however, rent to just anyone. They personally interview all potential renters before booking a reservation to determine if their spring break plans match the Easy Street philosophy. Spring break rentals also come with "rules of the house" which are shared with all potential renters.
At check-in, the Easy Street team meets everyone in the group, makes sure that there are no unregistered guests and that the group clearly understands what is expected of them during their week at the beach. Guests' cars are also noted and houses are monitored regularly all night long to be sure that there are no unauthorized cars, unregistered guests or rowdy behavior at the house.
Easy Street rents to groups of all boys, all girls or couples, but no unregistered girls are allowed in all-boy rental houses and no unregistered boys are allowed in all-girl rental houses at any time. Through experience, they have found that this policy limits parties which frequently lead to rowdy behavior and the dreaded damage to the property.
During spring break, Destin police are on the lookout for wild parties, underage drinking and loud music, so for the protection of their guests, Easy Street conducts "drive-bys" of all the houses nightly to be sure the noise ordinance is being obeyed.
Parents will also appreciate that Easy Street does everything in their power to ensure the safety of their female guests by giving them owners Rick and Debbie's personal mobile phone numbers with instructions to call day or night if they are in any kind of danger during their stay in Destin.
Easy Street strives to make spring break a fun and safe experience for their young guests and a location where parents can feel safe when their children are on spring break. Call now to make spring break reservations at (877) 432-7978 toll free or (850) 687-3695 or email us at Info(at)easystreet-rentals(dot)com.
About the company:
Rick and his wife Debbie started Easy Street Vacation Rentals in 2003 because of the frustration they felt in trying to find pet friendly vacation accommodations. They have traveled with their pets for years. Some of the places they stayed were less than clean, and it was obvious by the smell that the accommodations allowed pets. They vowed when they started their vacation rental business that all of their homes would be pet friendly and all squeaky clean. For more information, please visit their website at http://www.easystreetvacationrentals.com.