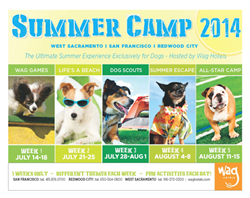 Summer Camp is our own innovative approach to exercise and social enrichment for dogs of all sizes and breeds.
San Francisco, CA (PRWEB) July 11, 2014
Feeling guilty leaving about your dog at home while you're on vacation? No need to worry. Your pet's summer just got a lot more exciting with a little help from Wag Hotels' exclusive, five week Summer Camp for dogs.
Whether your pup is an athlete, water fanatic, enjoys lounging around in the sun, Summer Camp will have something to satisfy all dogs. Each week will have a theme and each day will have unique activity designed to be fun and engaging. This year, Wag has added some quirky new activities to entertain, including: wine tasting, safari day, and an agility week called 'Wag Games'. Some other featured highlights will be: a treasure hunt, sniff n' seek, bacon bubbles, river rafting, bobbing for apples, a luau and more.
So what's the reasoning behind a camp for dogs? "Summer Camp is our own innovative approach to exercise and social enrichment for dogs of all sizes and breeds," states, Jose Gonzalez, who serves as Director of Guest Services for Wag Hotels and holds a degree in Animal Sciences from UC Davis. "All of the activities at Summer Camp have been specifically designed for dogs to maximize their engagement while allowing them to fully express themselves in a fun and safe environment. When you watch the dogs play and interact, you can easily see how much they love it."
Summer Camp 2014 participants can sign up for one day, one week or the entire event. Dogs of all physical abilities are welcome to exercise and socialize with fellow campers. Summer Camp is open to All Day Play attendees for an additional fee. Visit http://www.waghotels.com for pricing and additional details.
Locations for Summer Camp 2014:
Sacramento: 1759 Enterprise Blvd. West Sacramento, CA tel. 916.373.0300
San Francisco: 25 14th Street, San Francisco, CA tel. 415.876.0700
Redwood City: 1025 Hansen Way, Redwood City, CA tel. 650.364.0800
About Wag Hotels
Wag Hotels is the ultimate stay and play resort for dogs and cats. Founded in 2005, Wag has redefined the pet care business by offering a variety of innovative services including hotel-style boarding, all day play/doggie day care, grooming and spa services. Wag offers climate controlled environments, personalized Wag cams and provides care 24 hours a day, 7 days a week, 365 days a year.