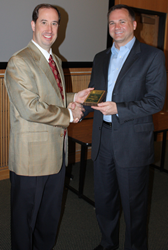 I enjoy working with Utah Valley University public relations students and introducing them to the exciting possibilities that come with pursuing a career in the public relations field.
Lindon, Utah (PRWEB) April 09, 2014
Each year, members of the Utah Valley University PRSSA chapter nominate and vote on an individual in the public relations industry to be the Communication Trailblazer Award recipient. This year, students selected Pete Codella, MBA, APR as the 2014 Communication Trailblazer Award recipient.
The award recognizes Codella's dedication to the public relations profession and his service as a mentor to others working in and studying public relations. This year, Codella helped UVU students through presentations and contributions to their conferences, assisting them in various chapter activities.
The Communication Trailblazer Award specifically honors those who have created professional opportunities for others. In his position at Alexander's during the past two years, Codella was instrumental in providing five paid internships for local university students studying public relations. The Alexander's internships provide local students the opportunity to work with real clients and network with professionals in their field, while also gaining internship credit from their respective universities.
Pete Codella is accredited in public relations and holds an MBA from the University of Utah. He is vice president of marketing and public relations for Alexander's — a cross-media print and marketing firm in Lindon. He's a national consultant and presenter on all things related to social media and public relations. He has taught public relations and social media courses for UNLV, UCI Extension and the University of Utah.
In 2009, Codella co-authored Integrated Marketing in the Digital World, an e-book used by the Kellogg School of Management. The same year, he released Social Media Song: Crazy Little Thing The Web on YouTube, which continues to appear in search results for 'social media song.'
Codella has served as a local chapter president for the Public Relations Society of America, International Association of Business Communicators and Social Media Club. He was the 2013 Golden Spike Awards chair and has received numerous awards, including the IABC Las Vegas 2007 Communicator of the Year.
"It's an honor to be recognized," said Codella. "I enjoy working with UVU students and introducing them to the exciting possibilities that come with pursuing a career in the public relations field. I look forward to helping more students in the future."
The Utah Valley University PRSSA 2014 Communication Trailblazer Award was presented to Pete Codella during his presentation as part of the UVU Communications Department Executive Lecture Series on April 7, 2014.
Pete Codella, APR blogs at PeteCodella.com and can be found on Twitter @codella.