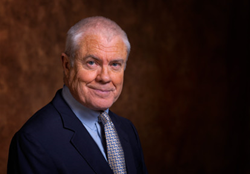 Over the years, my work has been rewarding. Receiving such recognition is an honor. I never imagined this moment. - Pete Rowland
Overland Park, Kansas (PRWEB) June 10, 2014
Litigation Insights, a nationally renowned woman-owned litigation firm, announced today that one of its founding principals will receive the extremely prestigious American Society of Trial Consultants Lifetime Achievement Award for his innovative work in advancing the field of trial consulting. Dr. Pete Rowland, a litigation consultant, has spent the past 28 years using academic research to best understand jurors' assumptions, preconceived notions, and decisions to help clients refine themes that will better connect with jurors at trial.
Rowland, who in 1985 naively said he could apply academic research to a "real case" when asked by an attorney at a social event, has been instrumental in developing unprecedented and nationally recognized jury research models that include counterintuitive juror distinguishers that go beyond stereotypical and experiential factors. He's conducted jury research for clients as diverse as "Newsweek," the National Iranian Oil Company, and the infamous civil rights trial of Medgar Evers.
"Throughout my career I've strived to design research that will help our clients better understand jurors' motivations and how to use that information to better structure their case stories to connect with how jurors think. I aimed to understand jurors both on an individual level and juries as a whole. Over the years, my work has been rewarding," Rowland said. "Receiving such recognition is an honor. I never imagined this moment."
During his development of innovative jury research models, Dr. Rowland was also instrumental in devising models for jury selection. With this approach, he helped put the "de" into deselection. Some may say he's a visionary beyond his years.
For more information on trial consultants aided by the research of Dr. Rowland, contact Litigation Insights at 888-339-9885, or visit our website at http://www.litigationinsights.com/contact/ where you can locate any of our four offices in Kansas City, Minneapolis/St. Paul, Dallas/Fort Worth, and St. Louis.
About Litigation Insights
Litigation Insights is a national, woman-owned company with more than 20 years of experience conducting jury research, developing trial graphics and assisting counsel with jury selection and case presentation during trial proceedings. As a full-service firm, the company provides everything from witness preparation to trial graphics and courtroom technology.