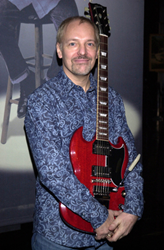 Peter Framptons' wide range appeal is legendary and his discography and award-winning record speaks for itself.
Rancho Mirage, CA (PRWEB) September 19, 2014
Brad Schmett, Broker Associate with Luxury Homes by Keller Williams today announced that the upcoming Peter Frampton in Concert at The Show at the Agua Caliente Casino in Rancho Mirage will be one of the biggest draws of the year for local realtors, attracting hundreds of baby boomers heading to the Coachella Valley to attend and shop for real estate.
Frampton is widely considered Rock 'n Roll Royalty and is always a sellout anywhere he performs. From his 1972 hit album Wind of Change through his a Hummingbird in a Box that was released this year, Frampton has churned out hit after hit for decades, making him one of the best-selling artists of all time.
Schmett recently discussed Frampton's popularity and its impact on local real estate shopping, "When stars of the caliber of Peter Frampton do concerts in the Valley my team always knows we are going to be extremely busy. His wide range appeal is legendary and his discography and award-winning record speaks for itself. These are the sorts of performances that bring in luxury home buyers and investors looking to add to their real estate portfolios. It is always great to help people achieve their dreams and nobody does it better than my La Quinta based team."
Tickets for The Show at Agua Caliente starring Peter Frampton may be purchased online or at the box office. Luxury accommodations are available at the spacious Agua Caliente resort, with plenty of gaming and gourmet dining at your fingertips. An ideal way to spend of fun weekend getaway.
For more information on the Peter Frampton concert at Agua Caliente, visit http://www.hotwatercasino.com/theshow/.
To find out more about investing in Rancho Mirage, CA real estate, visit http://www.ranchomiragerealestateinfo.com.
About Luxury Homes by Keller Williams: Luxury Homes by Keller Williams – La Quinta, is an exclusive, elite and sophisticated group of real estate consultants raising the bar for service in the La Quinta and Rancho Mirage area residential real estate market.