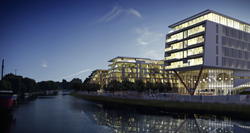 This approval is significant in many ways. For one, it is proof of concept that signals that our Investment Partnership model is a credible way to unlock land to help solve the housing crisis in this country.
Winchester, Hampshire (PRWEB UK) 11 December 2015
In a landmark decision, Peterborough City Council Planning Committee has today approved an outline planning application for the Fletton Quays site to the south of the city centre. The application was submitted by the Peterborough Investment Partnership, a joint venture between Lucent Strategic Land Fund and Peterborough City Council.
Large parts of the site have lain dormant for over 30 years and it has long been earmarked for redevelopment. Plans for the £120 million development include 280 luxury apartments, restaurants, leisure and retail facilities, a hotel of up to 160 beds, two blocks of prime office accommodation, a dedicated wildlife area, public spaces and cycle/pedestrian links along the south bank of the River Nene.
Made possible by the innovation of Lucent Group (which has specialist site assembly skills and excels in making difficult/brownfield sites 'shovel ready'), the Peterborough Investment Partnership is also hoping to regenerate other notable sites across upcoming Peterborough city.
Lucent Group co-Founder and CEO, Charles Flynn commented: "This approval is significant in many ways. For one, it is a remarkable step forward for Peterborough City development. Secondly, it is verification that private and public sectors can work synergistically together to regenerate derelict sites and thirdly, it is proof of concept that signals a way to unlock land to help solve the housing crisis in this country."
Flynn continued: "We know that the effective allocation of public land could accommodate a significant number of the homes this country needs. The difficulty arises when local authorities are not able to capitalise on the land assets they hold due to lack of resources and expertise. So, we at Lucent have developed our 'Investment Partnership' model to provide the necessary funding and land development capability which enables them to deliver viable redevelopment schemes for strategic sites.
"The Investment Partnership is controlled equally by the local authority and Lucent, with the local authority providing the land and Lucent the capital investment, planning and delivery expertise," Flynn concluded.
Lucent's current projects include the Lincolnshire Lakes development in North Lincolnshire; the Royal Pier Waterfront regeneration in Hampshire (the 'jewel in the crown' of Southampton City Council's 2030 master plan) and the Allerdale Investment Partnership in Cumbria.