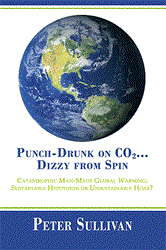 DARWIN, Australia (PRWEB) November 13, 2013
In the midst of the clamor that something drastic needs to be done to stop global warming, a large and growing number of prominent scientists, among them Nobel Prize-winning physicist Ivar Giaever, argue that there is no reason to panic. In fact numerous reports state no discernible warming has occurred for well over a decade now despite ever increasing carbon dioxide emissions. The U.K. Met Office and the chairman of the United Nations Intergovernmental Panel on Climate Change (IPCC) also recently confirmed this.
So what is the real deal about global warming? In his upcoming book, Punch-Drunk on CO2...Dizzy from Spin: Catastrophic Man-Made Global Warming Sustainable Hypothesis or Unsustainable Hoax?, author Peter Sullivan delivers a no-holds-barred analysis of this issue. He questions the catastrophic man-made global warming (rebranded as climate change) hysteria and draws attention to information that casts serious doubt over claims of a coming climate catastrophe.
"At the very heart of the matter is a basic supposition that carbon dioxide emitted from human activity is causing catastrophic global warming and is driving climate change," states Sullivan. "There are many who claim that 'the science is settled' regarding climate change, and unless action is urgently taken to halt climate change, the world will reach a 'tipping point' whereupon extreme climatic events will have catastrophic consequences for the world over the coming decades. Others argue that this is simply alarmist nonsense."
With IPCC releasing its fifth assessment report this year (2013), Punch-Drunk on CO2...Dizzy from Spin will shed light on recommendations that mean radical proposals which will cause major adverse impacts on peoples' lives. With access to a lot of information they have been generally unaware of, readers will begin to understand how the world has been misled about a fabricated "problem" based on questionable science, and on which obscene amounts of money have been spent to resolve what actually is, in reality, a non-problem.
"It seems the IPCC and its supporters simply got punch-drunk on carbon dioxide…dizzy from spin," adds Sullivan, revealing to whom his book title refers to. "There isn't another book like it."
For more information on this book and the author, interested parties may contact Xlibris (02) 8088 6078 or call 1-800-455-039.
About the Author
Peter Sullivan is an Australian chartered accountant, a licensed auditor, forensic accountant and investigator. After 15 years as a partner in a chartered accountancy practice, her retired from the firm to reduce his workload and concentrate on other interests. Professional skepticism and common sense are part of his "professional DNA," aspects that also seem relevant to the subject matter of this book.
For more information, contact Xlibris at (02) 8088 6078.