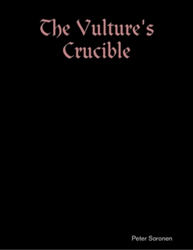 "This story emphasizes the vulnerability of the friendly forces and the extraordinary difficulty of pulling off a dangerous mission."
BARRONETT, Wis. (PRWEB) July 20, 2015
According to the Encyclopaedia Britannica, the Schutzstaffel, commonly known as the SS, was formed by Adolf Hitler in 1925 to be his personal bodyguards. The SS would go on to commit numerous crimes against humanity until their dissolution in 1945.
Author Pete Soronen brings the terror of the SS to readers in his new historical fiction, "The Vulture's Crucible" (published by Lulu), which follows a Royal Air Force (RAF) pilot on his mission to stop a new and more violent sect of the SS, the Foreign SS.
Allen Stienmetz was once an RAF pilot. Shot down in flames on his last mission, he is left with significant facial tissue damage. This makes him an ideal candidate for an undercover operation with British Intelligence.
Stienmetz, now codenamed Vulture, is to subvert the Foreign SS and cause a revolt. By taking the place of Colonel Dietz, an SS psychologist involved in training the new SS units, Stienmetz is in the perfect position to kick the hornet's nest and destroy the SS from the inside out. But can one man overcome the SS and their newly acquired ex-asylum inmates?
"Many modern American action stories revolve around some hero impervious to enemy gunfire who lives some sort of gifted existence where everything falls their way," Soronen says. "This story emphasizes the vulnerability of the friendly forces and the extraordinary difficulty of pulling off a dangerous mission."
"The Vulture's Crucible"
By Pete Soronen
ISBN 9781105639098
About the Author
Pete Soronen fell in love with the subject of World War II when he was several years old. He has read hundreds of books and seen countless movies on WWII. "The Vulture's Crucible" draws from his passion surrounding WWII to bring the story of one man's battle against the SS to life.
Lulu empowers people of all ages to explore and express their interests, passions and expertise through books, photography and art. Since introducing self-publishing in 2002, Lulu has empowered creators in more than 225 countries and territories to produce nearly two million publications. Lulu Jr. allows children to become published authors, encouraging creativity, strengthening literacy and building self-esteem. Picture.com offers professional photography of collegiate and professional sports, memorable and historic events, fine art and home décor. For more information, please visit lulu.com.