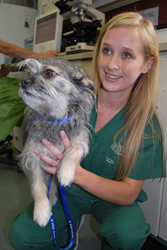 Food allergies occur in only 10% - 30% of dogs, and between 20%-30% of cats. Environmental allergies are much more common. - Dr. Christina Gentry
Englewood, CO (PRWEB) March 14, 2014
As we head into the spring season, allergies become more prevalent not only in humans, but also in dogs and cats. Veterinary dermatologists at VRCC Veterinary Specialty & Emergency Hospital in Englewood, CO, say that environmental allergies and food allergies are commonly confused, and due to creative marketing in the pet food industry, many of the popular pet food trends (i.e. grain-free, raw diets, etc.) are really just fads and many times have no effect on alleviating your pet's potential allergies.
Dr. Christina Gentry, with VRCC's Dermatology/Allergy department explains, "Food allergies occur in only 10%-30% of dogs, and between 20%-30% of cats. Environmental allergies are much more common."
In terms of the newest rage of "grain-free" diets, regardless of whether your pet is a dog or cat, their body does not treat grains differently from other sources of carbohydrates. The body recognizes food by the nutritional content, not by whether the source is a grain or other form of carbohydrate.
Signs of environmental and food allergies include: paw licking, scratching, chewing, itching, scooting, rubbing and/or recurrent skin and/or ear infections. Some food allergic pets may also experience chronic gastrointestinal issues such as vomiting, diarrhea, flatulence, and burping.
Top 3 myths about pet food fads:
Myth #1: Grains are not good for dogs or cats and cause allergies and obesity.
Fact: Grains are uncommon causes of food allergies, and can actually be important sources of fiber, fatty acids, and other nutrients. The main cause of obesity in dogs and cats is excessive fat and calories, not grains.
Myth #2: If bones are raw, they are safe
Fact: Bones, regardless of if they are cooked or raw can fracture teeth, tear the esophagus, or get caught in a pet's throat or intestinal tract.
Myth #3: A raw diet is healthier because that's what they'd eat in the wild
Fact: No scientific studies have shown benefits of raw diets, and raw diets are commonly nutritionally imbalanced by containing either a surplus or deficit of nutrients which may have serious effects on growing animals. Even if frozen, raw diets also contain harmful bacteria such as Salmonella which is becoming more and more resistant to antibiotics. Even if raw foods are handled carefully, these harmful bacteria can still be found in the feces of dogs fed raw diets which can inadvertently expose their owners to this bacteria causing potential illness in both the human and the pet.
Veterinarians at VRCC's Dermatology/Allergy department recommend that your pet's diet should be assessed based on its overall nutrient profile of the ingredients, rather than the ingredients themselves. If you are concerned your pet may have environmental or food allergies, contact your veterinarian or VRCC's Dermatology/Allergy department to have them properly assessed and treated.
About VRCC:
VRCC Veterinary Specialty & Emergency Hospital offers the highest level of care for pets, including a 24-hour emergency hospital and critical care center. Some of the world's leading veterinary specialists are on-site offering expertise in Cardiology, Dermatology/Allergy, Emergency Care, Internal Medicine, Neurology/Neurosurgery, Oncology/Radiation Therapy, Ophthalmology, and Surgery. More information on VRCC can be found at http://www.vrcc.com.