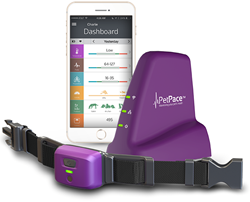 No other animal database includes the wealth and depth of health-related information, and the PetPace database is still growing daily.
Burlington, MA (PRWEB) January 21, 2016
PetPace, a leading global developer of IoT pet health monitoring solutions, announced today that the widespread adoption of its revolutionary health and well-being smart collar for monitoring, analyzing, and relaying key pet health data to veterinarians and pet owners has been instrumental in creating a pet wellbeing database unprecedented in scope and depth- the first of its kind.
The PetPace smart collar is a wearable tech that collects vital signs and behavior data from dogs and cats. Suitable for dogs and cats as small as 8 lbs, PetPace continuously collects key physiological data including temperature, pulse, respiration, activity, positions, Heart Rate Variability (HRV), calories, and more. This data is synced to the cloud-based PetPace server and it is accessible to pet owners and caregivers anytime, anywhere with any connected device.
With its widespread deployment, PetPace has accrued an unprecedented wellbeing database on dogs and cats. "No other animal database includes the wealth and depth of health-related information, and the PetPace database is still growing daily," noted Dr. Asaf Dagan, DVM, DABVP, and Chief Veterinarian for PetPace. "Yet the true challenge of wearable health technology goes far beyond data collection. The actual value lies in the creation and delivery of clinical information that can assist caretakers in real-time decision-making," he continued.
PetPace leverages its database to analyze and benchmark pet health data received, providing caregivers and owners with invaluable insights via PetPace Streaming Analytics. The sophisticated PetPace analytical engine examines incoming data in real time, at four distinct levels:
-Detecting abnormal values, such as high temperature or low pulse, indicating current health and wellbeing status
-Comparing historical values for individual pets, highlighting deviations from routine performance and potential changes in health and well-being indicative of both acute and chronic health changes
-Contrasting individual pet data to a group of similar pets (breed, sex, age, weight, location, etc) to assess the pet's condition against population benchmarks
-Analyzing population health trends, which is especially useful for research and academic studies
PetPace Streaming Analytics provides clinicians, researchers and pet owners with tools unparalleled in their power to determine detailed normal reference ranges, assess health status of dogs and cats, and closely monitor response to treatment. This allows for:
-Identification of acute conditions like heat stroke
-Detection of clinical deterioration of existing chronic conditions like chronic valvular heart disease
-Assessment of pain level, both acute and chronic, such as arthritis
-Increased owner compliance with clinical instructions
-Customizable alerting, and much more...
Contact
For more information on PetPace, please visit http://www.PetPace.com. For media inquiries, b-roll, hi-res images and interview opportunities, contact Gal Steinberg at gal.steinberg(at)petpace(dot)com.
About PetPace
Founded in 2012, PetPace is dedicated to improving the health and quality of life of pets. PetPace, a wireless health collar, specializes in the remote monitoring of pets' vital signs by using an array of sensors that report abnormal vital and behavioral parameters to a cloud-based engine that allows users constant access to the data via computer, smartphone app, or text alert.