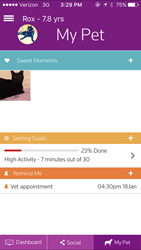 Burlington, MA (PRWEB) January 07, 2016
PetPace, the world leader in wearable tech for pets, announced today major improvements for our pet owner clients.
PetPace, the revolutionary smart collar used to monitor and relay pet health data to veterinarians and pet owners, has added exciting features, including the introduction of automated weekly statistical reports of pets health data. Pet owners and caregivers will now receive weekly updates highlighting changes in their pet's averages and trends data, indicating possible medical or behavior problems.
Improvements to the app also include the addition of advanced social features, sharing capabilities, pet health content and setting of individual goals for daily activity and calories burned.
The alerts module of the PetPace system is also seeing improvements with the advent of a new set of real-time alerts involving pets' activity and posture habits, potentially indicating medical and behavioral problems. These advanced features are not available by any other existing platform and represent PetPace's commitment to maintaining its position as leaders in the industry.
The PetPace free mobile application is now available from the Google Play Store and the App Store, and work in conjunction with the PetPace collar, a non-invasive wearable tech used to track your pet's vital signs – temperature, pulse, respiration, activity, positions, calories, pain and more. The collar, intended for dogs and cats as small as 8 pounds, automatically and continuously updates information in the app and sends real-time alerts and reports.