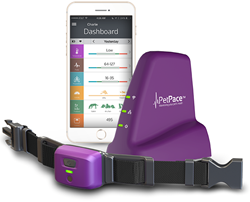 Together, we will improve preventive veterinary medicine in Canada, while offering pet owners high tech solutions to address pet wellbeing
Las Vegas, NV (PRWEB) March 08, 2016
PetPace, the developer of an innovative wearable tech IoT collar for remote real-time monitoring and analysis of pet vital signs and activity, and The Stevens Company, the largest privately-owned Canadian distributor of medical supplies, announces a distribution agreement that will bring this revolutionary pet health tracker to veterinarians, animal care professionals and pet owners all over Canada for the first time.
The Stevens Company, with its 180 years reputation for providing superior service and commitment to quality, began marketing the PetPace collar in Canada during the Ontario Veterinary Medical Association conference in Toronto in January 2016, and generated considerable interest from veterinary professionals.
PetPace has developed a smart collar for dogs and cats to continuously monitor a range of physiological and behavioral attributes (temperature, pulse, respiration, activity, positions, calories, HRV and more) remotely, and has combined with a real-time alert engine for close observation and timely detection of medical and behavioral problems in pets. The PetPace collar, previously available in the US only, is now available in Canada through the Stevens Company and also in the UK.
"We are happy to see the commercial success of PetPace drive expansion to other prime markets in North America, and we look forward to working with the Stevens Company, the leading distributor in the Canadian veterinary market," said Avi Menkes, the CEO of PetPace. "Together, we will improve preventive veterinary medicine in Canada, while offering pet owners high tech solutions to address pet wellbeing," he continued.
Jeff Stevens, President of The Stevens Company added, "The Stevens Company is proud of the companies it represents, and continuously strives to expand its product offerings to include state-of-the-art technologies, such as PetPace. Building on 180 years of heritage, the Stevens Company continues to stand for superior customer service, uncompromising quality and flexible responses to changing market needs. We believe that wearable tech for pets, represented by PetPace, the leader in this field, will be well accepted by our client base."
About The Stevens Company
The Stevens Company, headquartered in Brampton, Canada, was formed 180 years ago and is the largest, privately-owned Canadian distributor of hospital, physician and nursing home supplies. Service has been a ruling hallmark of the company throughout its long history as it has kept pace with the rapid changes and advances in the healthcare industry through responsive and flexible change, anticipating future needs while supplying products that meet its rigorous quality standards. Working with suppliers, physicians, hospitals and health science professionals, The Stevens Company actively searches out and promotes new products, which reflect state-of-the-art technologies, innovation and improvements in design, materials and handling. The company is committed to after sales service and training tailored to support the needs of its customers. For more information, please visit http://www.stevensveterinary.com/.
About PetPace
PetPace was founded in 2012 to bring peace of mind to pet owners and prevent unnecessary pain and suffering for dogs and cats through improved pet health and quality of life. PetPace specializes in the remote monitoring of pet vital signs by utilizing advanced analytical methods and alerting models. The company's low power, wireless collar is fitted with an array of sensors that report abnormal vital signs within established physiological and behavioral parameters. Once an abnormal sign or behavior is detected, a sophisticated cloud-based analytical engine evaluates the signs and if needed, sends an immediate alert regarding any suspected condition. This allows the owner or the vet to take preemptive action to protect the pet's health. For more information about PetPace real-time pet health monitoring, visit http://PetPace.com.