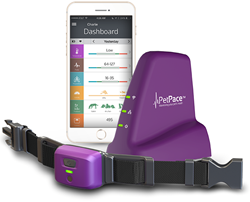 Such large-scale collection of biometrics and clinical data has the potential to significantly advance our knowledge of animal health, behavior and therapeutics.
Burlington, MA (PRWEB) June 09, 2016
Veterinary experts from PetPace, the leading manufacturer of health monitoring smart collars for cats and dogs, announced today their involvement in numerous academic and clinical studies to advance knowledge of animal health and therapeutics.
Studies leveraging PetPace's revolutionary non-invasive, remote vital signs and behavior monitoring collar are already underway in collaboration with multiple leading universities and private specialty hospitals in the U.S., U.K. and other countries. Participants include the University of Pennsylvania, North Carolina State University, Royal Veterinary College, Cambridge University, Bristol University, BluePearl Veterinary Partners, and many more academic and private research groups. Researchers chose to rely on PetPace smart collars because of their ability to continuously collect detailed biometrics, paired with sophisticated cloud-based analytics.
"The PetPace collar is a comprehensive wearable device that allows for continuous, detailed, long-term collection and analysis of rich health and wellbeing data in animals," said Dr. Asaf Dagan, DVM, Diplomate ABVP, and PetPace's chief veterinarian. "PetPace is committed to making its unique technology available to support a broad spectrum of clinical research. Such large-scale collection of biometrics and clinical data has the potential to significantly advance our knowledge of animal health, behavior and therapeutics."
PetPace's smart collar performs similar to human health monitors like Garmin's activity trackers and Apple Watch. The device is able to track vital signs like body temperature, pulse, respiration and other measurements like activity levels, body posture, heart rate variability and calorie expenditure. While PetPace is great for any dog or cat, the technology is especially useful for pets that are older, sick or at an increased risk for developing disease.
Studies utilizing PetPace smart collars span across various disciplines of veterinary medicine including cardiology, neurology, behavior, pain evaluation, intensive care, rehabilitation, sports medicine, orthopedic and soft tissue surgery, respiratory medicine, physiology and many others.
To learn more about PetPace and their role in veterinary medical research visit http://www.PetPace.com.
About PetPace:
PetPace was founded in 2012 to bring peace of mind to pet owners and prevent unnecessary pain and suffering for dogs and cats through improved pet health and quality of life. PetPace specializes in the remote monitoring of pet vital signs by utilizing advanced analytical methods and alerting models. The company's low power, wireless collar is fitted with an array of sensors that report abnormal vital signs within established physiological and behavioral parameters. Once an abnormal sign or behavior is detected, a sophisticated cloud-based analytical engine evaluates the signs and if needed, sends an immediate alert regarding any suspected condition. This allows the owner or the vet to take preemptive action to protect the pet's health. For more information about PetPace real-time pet health monitoring, visit http://www.PetPace.com.