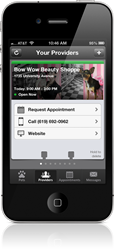 We surveyed over 300 pet care providers and found that appointment requests and reminders were their number one choice.
Dallas, TX (PRWEB) September 16, 2013
Free stuff. Always a sure fire way to boost traffic to your booth at a tradeshow. That's what The PetPartner Team is hoping as they travel to Chicago for the H.H. Backer's Total Pet Expo and then to San Antonio for the Southwest Veterinary Symposium to debut their new product later this month. But instead of pens or lanyards the team decided to take it up a notch and offer a completely free Google Chromebook to every booth customer who signs up for a year instead of the monthly plan. That's a $200 laptop thrown in to the welcome package every customer receives after they sign up for the service.
The PetPartner App is what is known as a Mobile Software as a Service or mSaaS. A software platform in the cloud that can replace or enhance a function of business. In this case the app replaces the need for phone calls to request, book, and remind customers about appointments. Don't worry though if you work the front desk at a vet, groomer, or other pet care provider – you're still an integral part of the process.
The advantage of this technology approach is its scale and customization. The PetPartner App is much more like an enterprise app that you see from a large company rather than a small business' do-it-yourself app because many different businesses are paying for the same platform. The cost is spread out and manageable for a local business but the experience on the platform is still customized for their brand.
The PetPartner App Platform has two parts – the app for the pet owning clients and management software for the pet care provider. The provider signs up for the service and can now receive appointment requests in their web dashboard or their existing email client. Clients download the app for free and can send appointment requests 24/7 and receive automated reminders before their appointment. You can see a quick explainer video from the company here.
When asked how the team decided on these features, the CEO Taylor Cavanah explained, "We surveyed over 300 pet care providers and found that appointment requests and reminders were their number one choice. Interestingly, now that we have a customer base we've found they actually care more about lower call volumes and office stress than the revenue they save from fewer no shows and more appointments."
It's often the case that survey takers will respond one way and then act in another way. Cavanah said that the survey results and their initial progress with customers will be published at a later date – "when PetPartner is further ahead of the competition." The overall pet industry continues to grow as Americans continue their love affair with dogs, cats, and all of our companion animals. However, the pet care industry has seen some hard times and PetPartner isn't the only company trying to help with a software solution. Some of the more entrenched web solutions like VetStreet and Demandforce will be at the shows as well. It will be interesting to see how technology will continue to transform the way vets, groomers, and boarders do business. One thing is certain – smart pet care providers will benefit from their clients' obsession with their smartphones.