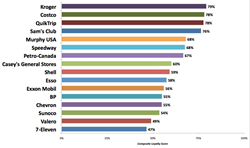 The ability to use loyalty cards and point systems drive consumers to fuel where they perceive they get better value
Boulder, CO (PRWEB) June 26, 2014
Consumers prefer to fill up their gas tanks at grocery stores and wholesale clubs rather than at traditional gas stations, according to a study by Market Force Information, a worldwide leader in customer intelligence solutions. The poll of more than 5,300 consumers found that Kroger is their favorite gas retailer, with Costco and QuikTrip tied for second, and Sam's Club ranking third.
The study revealed that grocery and wholesale retailers are continuing to curry favor over traditional gas station chains, luring customers with competitive prices and loyalty-based discounts. Even so, consumers more often than not end up frequenting traditional gas stations because of convenience.
Kroger's Fuel Customers Most Satisfied
To rank consumers' favorites, Market Force asked participants to rate their satisfaction with their most recent gas station experience and their likelihood to return to that station. The results were averaged to attain a Composite Loyalty Score. Kroger ranked No. 1 with 79%, Costco and QuikTrip tied for second with 78%, Sam's Club ranked third with 76% and Murphy USA, which operates standalone stations and on-site stations at Walmart Supercenters, was fourth with 68%. [See Graph 1].
"The rise of grocery and wholesale clubs is formidable in the petro-convenience sector, with the ability to use loyalty cards and point systems driving consumers to fuel where they perceive they get better value," said Market Force CMO Janet Eden-Harris. "However, convenience is often an over-arching consideration for consumers on the go, and it's difficult to beat the pervasiveness of the regional and national chains that dot every town across the country."
Location and Price Are Deciding Factors
Not surprisingly, convenient location and competitive pricing are the two factors that consumers like most about their gas station of choice. The ease of entering and existing the station is also important, as is the safety of the location and an efficient transaction process. [See Graph 2]. Less critical to consumers are the availability of car washes and environmentally friendly fuel.
However, location does not necessarily equate to greater loyalty. Market Force found that more than one-third (37%) of consumers are willing to drive past a competing brand to fuel at their favorite gas station brand. Study participants said they'd be most willing to drive past competitors to fuel up at Costco, Sam's Club, Kroger, QuikTrip and Speedway. Low prices are another story. Just 18% would always choose their preferred gas station over other options, even if the price were higher.
Costco is Price Leader, Speedway Wins on Loyalty
The study also looked at how the top brands fared in the areas that matter most, including the operational attributes that set one chain apart from another. Out of the brands studied, Costco, Sam's Club and QuikTrip scored highest in competitive pricing, which rated as the second most important factor for consumers after convenience. QuikTrip – which ranked third in the overall results – dominated many of the categories, including convenience, cleanliness, brand reputation and efficient transactions. Speedway led in the important loyalty program category, and Chevron took top honors for fuel quality. Petro-Canada, Shell and Sheetz also performed consistently well, earning top-five placements in areas such as discounts, loyalty programs, efficiency and convenience. [See Graph 3].
"We're seeing that convenient locations and competitive prices are table stakes in capturing consumer wallet share, while operational excellence for cleanliness and service clearly play an important role," said Eden-Harris. "In fact, our data shows that clean restrooms, a friendly greeting and a thank you can actually double sales over locations that aren't performing."
North American Favorites by Region
Gas stations can be highly regional, so Market Force drilled down to identify the favorites in four U.S. regions and Canada. The results were a mixed bag, with no one brand standing out in multiple regions. Costco led in the West, Speedway in the Midwest, Shell in the South, Exxon Mobil in the Northeast and Petro-Canada in Canada. [See Graph 4].
Top four gas retailers by region:
· West – Costco, Chevron, Shell, Safeway
· Midwest – Speedway, BP, Casey's General Stores, QuikTrip
· South – Shell, Kroger, QuikTrip, Exxon Mobil
· Northeast – Exxon Mobil, Sunoco, Hess, Sheetz
· Canada – Petro-Canada, Shell, Esso, Co-op
Shell Most Frequented
Although motorists would prefer to visit their favorite gas stations the majority of the time, factors such as convenience and timing often drive them to visit the handiest and most accessible options. Those polled for the study said they visited Shell more than any other gas station in the past three months, but that's largely due to the brand's ubiquity. Shell has more than 25,000 branded locations across North America, while other brands included in the study have a fraction of that many locations. Market Force also saw Shell's market share decline by 6% compared with the findings from its 2013 study, and Walmart's dropped by 8%.
Survey Demographics
The survey was conducted in May 2014 across the United States and Canada. The pool of 5,315 respondents reflected a broad spectrum of income levels, with nearly 60% reporting household incomes of more than $50,000 a year. Respondents' ages ranged from 18 to over 65. Approximately 72% were women and 28% were men. Sixty-five percent are married and 46% have children at home.
About Market Force Information
Market Force is the leading global customer intelligence solutions company for multi-location businesses, including major retailers, restaurants, grocery and convenience stores, financial institutions, entertainment studios and consumer packaged goods companies. With more than 125 years of combined industry experience, Market Force has pioneered the industry with a suite of customer intelligence solutions – from proprietary decision-support tools to 600,000 field associates across North America and Europe who conduct mystery shopping, to real customer surveys, contact center solutions and social media monitoring. Its solutions enable brands to identify the actions required at the store level to increase customer loyalty and improve financial performance. Market Force was named one of Forbes' America's Most Promising Companies in 2011. For more information, visit http://www.marketforce.com.
###