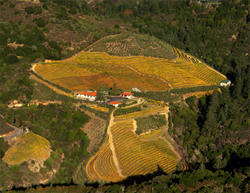 Our goal was to create a tasting and tour experience that ensured every guest enjoyed the beauty and elegance of the terraced mountain estate, the wine, and an unforgettable experience. We wanted to create lasting memories.
Sonoma, CA (PRWEB) April 21, 2017
Petroni Vineyards successfully transitions from a family hobby winery to a boutique luxury winery in the renowned Moon Mountain AVA of Sonoma wine country.
Petroni Vineyards' founder Lorenzo Petroni dreamed of becoming the first California vintner to grow the prized Sangiovese Grosso clone to produce a Brunello-style wine in the hills of Sonoma. The wine requires at least two years of barrel aging followed by an additional three years in a bottle prior to release. Petroni personally imported the root stock from his native Tuscany to develop his vineyards in the rocky, hillside Sonoma soil.
Upon the passing of Lorenzo, the Petroni family recruited Jeff Forestier to consult on strategic options for the winery. This important move led to the repositioning of the brand with a focus on direct-to-consumer marketing. Forestier confirms many of Petroni wines are on allocation and available exclusively from the winery, or at North Beach Restaurant, also founded by Lorenzo Petroni.
With a career conducting corporate turnarounds for the likes of Kleiner-Perkins, Advent Venture Partners, and numerous private equity firms, the strategy was quite clear for Forestier, who immediately began recruiting the best personnel he could find in the industry. "Our goal was to create a tasting and tour experience that ensured every guest enjoyed the beauty and elegance of the terraced mountain estate, the wine, and an unforgettable experience. We wanted to create lasting memories," said Forestier.
Director of Hospitality, Cante Swearingen, was the first key hire. Recruited from the Napa Valley, his prior ten years had been spent building the estate program for VIADER Vineyards. Shortly thereafter, Samantha Francis joined Petroni from Spring Mountain Winery as Director of Wine Club and Events. With these key additions, combined with the incomparable winemaking skills of New Zealand-born Martin MacKenzie, who came from the prestigious Stonyridge Vineyard, a great team was formed.
Guests are greeted at the gates of the estate with a glass of Sauvignon Blanc to begin their experience. The estate boasts an incredible 19,000-square-foot cave providing year-round invariant temperature and natural humidity that are ideal for aging wines. Petroni commonly hosts private events, intimate parties or large groups, including food pairings with wine, Wine Club member events, weddings, birthdays, as well as large corporate events.
Petroni Vineyards' elite tasting experience features knowledgeable and professional hosts that create a welcoming Italian family atmosphere. Several tasting options are available, including a vertical tasting of older vintages dating back to 1998 (selection between Sangiovese, Syrah or Cabernet) side-by-side with current release wines. Tastings include a full tour of the estate (weather permitting) and caves, sampling of the estate Organic Olive Oil, and often includes a few surprise benefits. All wines are from estate vineyards that are organically farmed.
To join the Petroni Vineyards Wine Club, please visit http://www.petronivineyards.com/wine-club/join-the-club/.
About Petroni Vineyards
Located up a winding road above Sonoma Valley in the Moon Mountain AVA, Petroni Vineyards is a breathtaking expanse of terraced, organically-grown vineyards, olive orchards and 19,000 square feet of magnificent Tuscan wine caves. Its boutique 5,000-case production of luxury Bordeaux and Italian varietal wines are allocated exclusively to wine club members, winery visitors, and direct-to-consumer shipping. Founder and visionary Lorenzo Petroni's legacy and heritage is celebrated with the flagship Sangiovese and Extra Virgin Olive Oil, both of which are organically farmed from root stock originally imported from Italy's famed Tuscan wine region to the rocky volcanic soils of Sonoma. For more information, please call (707) 935-8311, or visit http://www.petronivineyards.com. Petroni Vineyards is located at 990 Cavedale Road, Sonoma, CA 95476.
About the NALA™
The NALA offers small and medium-sized businesses effective ways to reach customers through new media. As a single-agency source, the NALA helps businesses flourish in their local community. The NALA's mission is to promote a business' relevant and newsworthy events and achievements, both online and through traditional media. For media inquiries, please call 805.650.6121, ext. 361.