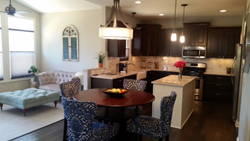 The city wanted innovative and fresh designs that blended harmoniously with the overall site plan and it's stellar location within the city itself.
Broadview Heights, Ohio (PRWEB) April 29, 2015
Petros Homes has announced the grand opening date of its new community development, Town Centre Village, for Saturday, May 2, 2015. The event will be held from 12 p.m.–5 p.m at the Town Centre Village's newly-completed model home, located near the corner of Route 82 (Royalton Road) and Broadview Road. Potential buyers will be able to peruse the model home and imagine their lives while living in the community.
Petros Homes is currently taking reservations on the 23 properties in Town Centre Village. Once completed, the community is poised to become one of the most affordable new construction options in the Brecksville/Broadview Heights school district. With 3–4 bedroom floor plans, hardwood and ceramic tile floors, granite countertops, and prices starting at $290s the two-story colonial homes stand to sell quickly.
"The city of Broadview Heights was desirous of implementing progressive zoning guidelines that would allow for a smaller, easier to take care of lot that still offers enough room for family enjoyment," says Gary Naim, president of Petros Homes. "The city wanted innovative and fresh designs that blended harmoniously with the overall site plan and it's stellar location within the city itself."
The innovation of these custom homebuilders is that the homes in the Town Centre Village are "right-sized." What "right-sized" means is that the properties are built to meet the exact specifications the company has developed to match the desires of busy families. Petros Homes spent time researching buyers, which included parents with school age children, to find out what kind of properties best fit their lifestyles. What it determined was that families want houses with open floor plans and smaller yards that are not a hassle to maintain.
Another draw for these new homes is the walkability factor. Residents will be able to walk to great restaurants, trendy coffee shops, fun stores, the recreation center, and the park. And if they want to take a trip to Cleveland or Akron, the drive is only a 20 minute ride down I-77.
Fortunately for Broadview Heights residents, Petros Homes still has reservations available for its Town Centre Village properties. The custom homebuilders are excited to open the community as they trust the success of Town Centre Village will make other suburban areas believe in the concept of smaller lot homes.
For more information on Town Centre Village and other new homes, Petros Homes invites prospective residents to visit its website at http://www.petroshomes.com or contact (216) 870-9025. The main office is located at 10474 Broadview Rd. Broadview Heights, OH 44147.
Whether you're searching for move-in-ready homes or you're ready to begin building your own custom house, the experts at Petros Homes can help. Having spent the last 25 years building durable and beautiful residences throughout seven counties in Northeast Ohio, our team has the experience to guide you through your custom home building or remodeling experience. We provide quality workmanship in all of our kitchen, bath and basement remodels, and also provide custom home additions. We will work with you to help you find the perfect lot or to begin construction on your existing property.