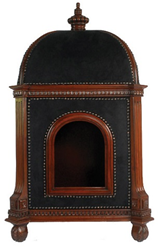 Leaving an open litter box anywhere in the home is going to result in lingering odors in that area, even if the box is kept fairly clean, but placing it in a simple closed cabinet can prevent bad smells from spreading.
(PRWEB) October 08, 2014
HomeThangs.com – the Online Home Improvement Store has made their goal to deliver the right product to the consumer. With that in mind, shopping and home design tips, as well as special product selections are being introduced.
Litter boxes are a necessary evil of cat ownership; cats need them, but no one wants to look at them, let alone smell them. Built in and concealed litter boxes are a great way to get a litter box out of sight (and smell), and HomeThangs.com has introduced a guide to some of the best spots install one as well as a few common styles.
Concealed litter boxes can be installed anywhere in the home, but places away from common rooms and heavily trafficked areas are the best choices. HomeThangs.com's new article discusses the pros and cons of installing a concealed cat box in various room, including the laundry room, mudroom, and bathrooms, as well as considerations for ventilation, stray cat litter, and storage space.
Most concealed litter boxes are built into a cabinet or closet that has room inside for a full sized litter box, spare litter, and cleaning tools. But how the cat accesses the box varies between designs. HomeThangs' guide discusses a few different options for how to balance the visibility of the box, odor, and ventilation. The type and location of the entrance as well as where the box is located all matter, and HomeThangs.com has a few tips for minimizing the impact of the cat box while still keeping it accessible enough to clean.
To see some great examples of these concealed litter boxes in action, check out the full guide here.
HomeThangs.com is not only a home improvement superstore, it also provides expert design tips and a comprehensive shopping guide, taking the ideas from professional interior designers, and offering tips to the consumers on how to pick the products to best suit their needs.