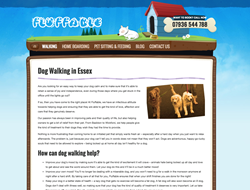 Basildon, Essex (PRWEB) January 26, 2015
Having spoken with their growing client base about how they could have even more assistance with their furry friends, Fluffable have decided to introduce dog walking into the neighbourhoods mentioned as well as Laindon, Wickford and Billericay.
New Dog Walking Services Introduced
Regardless of the breed of dog or the personality of the dog, Fluffable are more than happy to deliver a friendly and personable service that can help keep dogs in fine fitness and heath for many years to come. Capable of walking up to six dogs at any given time, their dog walking experts know the right places to go and the right times to arrive at, so that the dogs can get as much space and freedom as they possibly can to enjoy themselves.
Any dog owners that cannot find the time to properly look after or exercise their dog can find Fluffable to be just the service that they need. With canine obesity matching human obesity levels in that they are simply too high, Fluffable wishes to act on their duty to help take the stress and pressure off of their clients lives.
Having worked with their clients on many aspects of improving their dogs quality of life – whether it's feeding or getting their dog ready for living at home – Fluffable believes that it's within everyone's interests to bring this service out. There's no need for animals to become victims of their own home and get trapped inside with regularity. By aiming to provide a service that will take away this unfair consequence on any clients pet dog, Fluffable can make life so much easier and allow both animal and owner to flourish and live a more enjoyable, active life.
Looking after a pet can be a straining and difficult experience, especially if fitting in fitness for a pet is difficult to do on a weekday. To help avoid this from becoming a problem and potentially adversely affecting your pet in the future, Fluffable can make sure that their clients dogs are able to get the kind of care and protection that they need on a regular basis.
Why Should I Let Fluffable Walk My Dog?
As mentioned above, canine obesity is growing as rapidly as human obesity. Unfortunately, dogs cannot function anywhere near as well as humans when they start to put on weight. It affects their bodies far more rapidly than it would a human's body, and can seriously hinder the quality of life of any dog. This is why dealing with canine obesity is so vital, and why Fluffable has introduced dog walking as a new service in the Essex area.
Having helped many clients in the past change their dogs lifestyle habits and diet, prolonging their dogs life considerably, Fluffable wishes to include a rigorous and pet-friendly exercise regime for any pets within the Essex area that are in need of becoming stronger, fitter or faster.
No longer do people need to try and find the time after work to take their dog out for a walk – they can rely on Fluffable to collect their pet, look after it, and improve its overall mood and fitness before bringing it back to the house at the end of an exhausting and enjoyable walk.
Worried about your pet coming back in a mess? Then Fluffable will take care of that. Their experts are more than happy to give their clients dog a quick comb and groom before bringing them back, leaving their dog looking and feeling better than it has for some time.
Where Can Fluffable Cover?
Fluffable can cover the entire Essex area, but primarily is based within Basildon, Essex. If the client is based outside of Basildon, it's requested that an extra charge of £5 will be included to cover any fuel costs. However, Fluffable will make sure that all dogs receive walks in safe, local areas that the expert on the day will have knowledge of. Fluffable works with clients from all across the Essex area, so there is a deep knowledge about the best places to walk dogs and to make sure that they stay safe and are able to express themselves properly.
If you are interested in improving your dog's fitness in the future, then you can visit the dog walking section of the Fluffable website here:
http://fluffable.co.uk/walking/
Any questions or queries about the dog walking service provided by Fluffable can be answered easily by contacting Fluffable using the contact page on their website here:
http://fluffable.co.uk/contact-us/