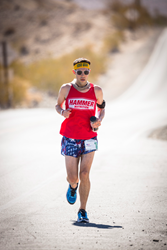 "It's a very pure sport. Anyone can do it. It transcends into personal well being."
San Francisco, CA (PRWEB) August 12, 2016
Pete Kostelnick, financial analyst by day and superhuman runner, often by night, has a cross-country trip planned next month. Unlike the ordinary traveler, however, he won't be using a plane or a car, a train or a bus. He'll be running from San Francisco to New York City, covering the entire 3,100 miles on foot. To set the new world record for this feat, he plans to run 70 miles a day for 44 consecutive days.
It's a record that's stood for 36 years. Guinness World Records recognizes Frank Giannino, Jr. as the current holder of the "Fastest Crossing of America on Foot (male)" title. He completed the journey in 1980 in 46 days, 8 hours and 36 minutes. Since then, other long-distance runners have attempted the crossing, but few have managed to complete the arduous trek. Fellow ultra-runner Jon Tanner believes Kostelnick has the talent to achieve the new record. "Pete is one of the very few people who has a legitimate chance at the event," he says. "I stand in awe of his physical capacity for endurance efforts."
It's already been a record-shattering year for the 28-year-old Kostelnick. In July, he set a course record for the STYR Labs Badwater 135, an ultramarathon promoted as "the world's toughest foot race". Three years ago, he ran beside cyclists in Iowa's RABGRAI event, a seven-day crossing of the state. He became the first runner ever to complete the 423-mile course. Tanner says that Kostelnick's RAGBRAI run was "a physical achievement barely comprehensible to the average ultra athlete." Several sponsors have taken notice of the notable record attempt and have stepped forward with shoes, nutrition, products and services. They include HOKA ONE ONE, Anywhere.run, ultraDOC, Nathan Performance Gear, Squirrel's Nut Butter and deFUNKIt.
What pushes him to keep running, to continue testing the limits of his physical stamina and mental toughness? According to Kostelnick, "it's a lifestyle" but it's one that he's had to learn. Although he competed on his high school cross-country team, he was, by his own admission, "never a very serious runner." In college, he met his future wife, Nicole Larson, who was already a runner. "She got me interested again," he said, adding that he also needed to lose the 30 pounds he'd gained in only a few years. He began running, eventually setting his sights on entering and completing the Boston Marathon, which he did. "I have a competitive nature," he admits. Now, while Kostelnick has found a personal niche in long-distance running, he says that running in general is an activity that anyone can take up. "It's a very pure sport. Anyone can do it. It transcends into personal well being."And that's the message Kostelnick is carrying on his cross-country feat: running—at any
speed—improves health and physical fitness for almost everyone.
For runners who want to spread this message with their own fundraising events, Kostelnick has engaged Adventure for Charity, a facilitator to help organize 3-day/2-night running excursions on segments of the 3,100-mile route and channel the money to charities favored by Kostelnick: The 100 Mile Club, a national cancer society and anti-bullying center (yet to be announced.)
Kostelnick and his support team plan to begin his record-attempting run on the steps of San Francisco City Hall on September 12 and arrive at City Hall in New York City in 44 days…or less!
About Pete Kostelnick
Pete Kostelnick was born and raised in Boone, Iowa and graduated from Iowa State University with degrees in Finance and International Business. He is married to Nicole Kostelnick, also a runner, and lives in Lincoln, Nebraska where he works as a financial analyst for National Research Corporation. He is a widely respected ultra-athlete with a growing community of sponsors and supporters. For more information, visit http://www.petesfeetaa.com. And follow Pete on social media at #petesfeetaa.
About Adventure for Charity
Adventure for Charity is an adventure travel company with a twist; a social entrepreneurship company that creates positive impact in the world one adventure challenge at a time. Almost anywhere in the world, non-profit organizations, companies, and individuals can participate in custom or open challenges on foot, on wheels or in the water. Adventure for Charity has created a unique platform to help people GET OUTSIDE. HAVE FUN. DO GOOD. For more information, visit
http://www.adventureforcharity.com.
For Pete's Feet Across America, runners anywhere in America can sign up to participate in 3-day/2-night running excursions on segments of the 3,100-mile route or raise funds independently and then direct that money towards an organization selected by Kostelnick: The 100 Mile Club fights childhood inactivity and obesity by empowering kids "to achieve a healthy lifestyle through physical activity." Students are encouraged to run or walk 100 miles at school during a single school year. For more information, visit http://www.100mileclub.com.
Contact: Trasie Phan, Phan & Co. trasiephan(at)icloud(dot)com 619-252-8348