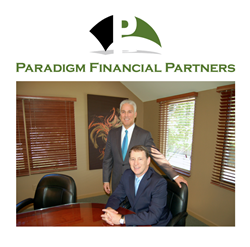 Our purpose is beyond just building wealth and financial security for our clients… It is about helping them realize their personal goals, achieve balance and live a rich life.
Westport, Connecticut (PRWEB) March 26, 2014
An exciting change is taking place in March as Halper-Rawiszer Financial Group will change its name to Paradigm Financial Partners, which better captures the essence of the group, and distinguish them from the competition.
Lee Rawiszer, a seasoned wealth management professional with 35 years of experience, and David Halper, an insurance specialist with over 27 years of experience, founded Halper-Rawiszer Financial Group in 2003.
With a multitude of firms offering wealth management and insurance services, Paradigm Financial Partners are unlike any other wealth management firm, with their unwavering commitment to their clients' visions and goals that guide their values and decision making each and every day.
Paradigm Financial Partners mission statement continues to hold true year after year—"Our purpose is beyond just building wealth and financial security for our clients… It is about helping them realize their personal goals, achieve balance and live a rich life. It's the foundation upon which the firm has been built, and we're very proud of our legacy," states Lee Rawiszer.
Additionally, Paradigm Financial Partners independence and boutique family office model sets them apart. Standing toe-to-toe with the big wire houses on investment products, investment and insurance analysis tools and in the advice provided, but with the deep level of personal attention, independence and care that only their team can provide, which has been their hallmark from the very beginning.
Paradigm Financial Partners includes a team of advisors/partners nationwide. Joel Solomon, Chartered Financial Consultant, an industry renowned and respected advisor in the Newport Beach, CA office, specializes in business exit planning and executive retirement plan strategies. "Joel brings almost 37 years of experience and cutting edge ideas to the organization," adds David Halper.
They have also added David Bunin, an extremely well respected wealth advisor, to their Westport office. "David brings over 13 years of experience to the company, with the knowledge and wisdom from his years at Morgan Stanley, Bank of America and JP Morgan, and is a Chartered Retirement Planning Counselor, working with individuals and businesses on their retirement plan strategies," says Lee Rawiszer.
In addition, they have added a new consultant:

Sue Truax, a 25 year veteran insurance specialist.
While the name and logo are new, ownership hasn't changed, and the same team will still serve their clients, led by Lee Rawiszer, David Halper, and Paul Volpe. The support team has been expanded to better serve their clients with the exceptional and caring customer service they have become known for.
Important Legal Information Securities and Investment Advisory Services offered through NFP Securities, Inc. (NFPSI), Member FINRA/SIPC. Paradigm Financial Partners is not affiliated with NFPSI. This site is published for residents of the United States only. Registered Representatives and Investment Advisor Representatives of NFP Securities, Inc. may only conduct business with residents of the states and jurisdictions in which they are properly registered. Therefore, a response to a request for information may be delayed. Not all of the products and services referenced on this site are available in every state and through every representative or advisor listed. For additional information, please contact the NFP Securities, Inc. Compliance Department at 512-697-6000.