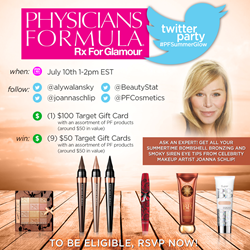 Consumers can get their makeup questions answered by Physicians Formula and Celebrity Makeup Artist Joanna Schlip.
New York, New York (PRWEB) July 08, 2014
Summer is in full swing and so is seasonal makeup woes. Many consumers are aspiring to obtain sexy siren eyes and bronzed bombshell skin, but sometimes a bronzy look can go totally wrong… and fast. Due to the summer heat and humidity, an even complexion can become cakey and melt right off a consumer's face. Curvaceous lashes seem to melt and flake off as soon as consumers step out on the hot pavement. So, if this sounds like a familiar kind of summertime makeup dilemma, then what consumers need is a little help from Physicians Formula and Celebrity Makeup Artist Joanna Schlip.
Join BeautyStat, Physicians Formula, beauty/lifestyle blogger Aly Walansky and Joanna Schlip for a #PFSummerGlow Twitter Party on Thursday, July 10th from 1-2PM ET. Here, guests have a chance to ask Joanna any and all summer makeup bronzing and eye-enhancing questions they need to get the perfect summertime makeup look — Physicians Formula is America's #1 Bronzing Brand after all.
Whether consumers are looking for a soft, natural custom glow, Physicians Formula has them covered with the Shimmer Strips All-in-1 Custom Nude Palette for Face & Eyes. Achieve 10+ beauty benefits with the Super BB Makeup for a flawless complexion that also includes SPF30 UVA/UVB protection. And make long, volumized lashes last through a heatwave (and up to 24 hours) with the Sexy Booster "Va Va Voom" Volume Mascara. No need to compromise your makeup look even in July.
Don't forget to include the hashtags #PFSummerGlow and #bstat when tweeting all questions to be eligible to WIN prize packs that will have skin glowing and eyes gleaming all summer long. 9 Winners will take home $50 Target Gift Cards & a PF Prize Pack worth $50! 1 Lucky Grand Prize Winner will receive $100 Target Gift Card & $50 worth of the PF goodies mentioned.
Make sure to RSVP to be eligible to win by clicking here > #PFSummerGlow Twitter Party.
**********************************
BeautyStat.com is an online beauty retail platform (that features makeup, skincare and haircare reviews). It has been featured in Women's Wear Daily, LA Times, New York Times, Forbes Magazine, NBC and CBS News. The strength of BeautyStat.com is its captive, engaged and influential 200,000+ community, 190+ blogger network and 40 million social network reach. BeautyStat.com works with beauty brands, retailers and PR agencies to connect them to the BeautyStat community for e-commerce, advertising and rich consumer insights.