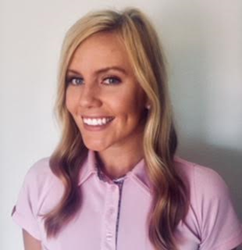 Morgan Reimer PGA Pro golfer will go live to teach you how to swing the club.
SCOTTSDALE, Ariz. (PRWEB) July 25, 2018
Bonk.Be Live, the international crowd-based streaming app, welcomes Morgan Reimler, a rising PGA professional and golf blogger to its growing lineup of top tier athletes and entertainers.
Morgan's power play and signature full body swing is a force on the women's tour. In between scheduled tournaments on the Cactus Tour this year, she will be live streaming updates and swing instruction via the Bonk.Be Live streaming app which is available in Google Play and can be downloaded at Apple's App Store for Android and Apple devices. Reimler is the first professional golfer to broadcast on the Bonk.Be Live golf streaming channel.
After leading her Columbia, Missouri high school to its first ever state championship in 2011, Morgan attended Southern Illinois University in Carbondale, Illinois where she played on the college team and used her fifth year of eligibility to play for the Women's Golf Team at Columbia College. While touring the region with her team, she also earned an MBA from Columbia College.
Morgan is a frequent blogger on all matters of golf, health, nutrition, and lifestyle. http://morganreimler.com/2017/09/hello-world/ She can be heard here in a recent podcast of The Golf Babe Episode with Hailey Ostrom, Rachel Audrey, and Morgan. http://ihartgolfpodcast.libsyn.com/02-the-golf-babe-episode-with-hailey-ostrom-rachel-audrey-and-morgan-reimler
At Bonk Be.Live, Morgan will be joined by other Social Influencers, including Young Buck, Tenelle, Al-Farouq Aminu, Danuel House, Zab Judah and Michael Grant.
About Bonk Be.Live
Bonk Be.Live is a tool for broadcasting live-streaming videos and watching others perform. With Bonk Be.Live you can log in with a phone number, Facebook account, or Instagram account. Bonk Be.Live is the best App for Superstars, Performers and Aspiring Stars who want to keep their fans updated. Bonk Be.Live Star Broadcasters interact with fans worldwide. Professional Athletes, Singers, Dancers, Motion Picture Stars, Famous DJs, Rappers, YouTube celebrities, and Facebook top influencers, all can connect to millions of fans, while new broadcasters have fun online endeavoring to become the next Bonk Be.Live star!