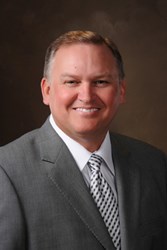 Winter Springs, FL (PRWEB) January 21, 2014
Power Grid Engineering, LLC (PGE) has announced that former Progress Energy Executive Dale Oliver has become an official owner of PGE, an electrical engineering firm headquartered in Central Florida. Oliver joined the PGE executive team in 2012 after the Progress Energy-Duke merger.
Wanting to stay in Florida, Oliver began exploring new opportunities. His interest peaked when discussing his departure from Progress Energy with former Progress Energy employees who left the utility in 2007 to start a consulting firm with a niche in quality assurance.
PGE's three founding partners made Oliver an offer to join the company's executive team with the option to buy-in as a minority owner after one year of employment. Oliver took the offer and joined PGE's executive team as Vice President of Operations in August of 2012, and holds a critical position overseeing all engineering, field services, compliance, client cultivation and project management aspects of the business.
Earlier this month Oliver exercised his option to buy into the growing firm, making him the fourth official owner. The transaction was finalized on Jan. 1. "We're excited to have Dale (Oliver) have an ownership stake in PGE and feel blessed to have someone with more than 30 years of utility experience join our team and be a vested partner," states PGE President Michael J. Wright.
"I see great promise in PGE and feel fortunate to be a part of the continued success as an owner," expresses Oliver. According to PGE, the offer was part of the company's strategic plan which includes national expansion, opening three additional office locations and increasing the total number of employees to 185 within the next three years.
Power Grid Engineering, LLC (PGE) is an electrical engineering firm headquartered in Winter Springs, Fla. with offices in Alabama, North Carolina, and Kansas. PGE offers custom engineering solutions, with an emphasis on quality assurance, for investor-owned utility companies across the United States and Puerto Rico. For more information visit powergridengineering.com