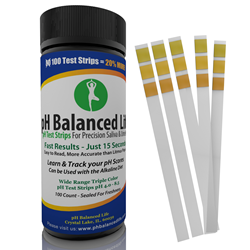 "We're proud of the pH test strips we've developed; they're getting excellent reviews from our customers." - Karen Podlasek, Co-founder
Crystal Lake, IL. (PRWEB) January 13, 2015
The pH test strips were launched in November of 2014, and have over 55 product reviews used for ranking. Amazon Top Rated ranking system factors contributors such as customer review star ratings, the number of customer reviews a product has received, and the timing of those reviews.
To put it more in perspective, 3,393 products appear in Amazon's search term, "pH test strips." From those 3,393 search results there's a Top Rated 100 section, followed by a Top 20, and finally the #1 rated position. As of January 12th, 2015 pH Balanced Life continues to hold its #1 rated ranking for pH test strips.
Using pH test strips on a regular basis is considered a useful and effective tool for those on the alkaline diet, athletes in training, or people just trying to eat healthier. Increased acidity of the body is called acidosis. It's been linked by some researches to health issues ranging from low energy, hormone level issues, weaken immune system, weight gain, diabetes type 2, bladder infections, kidney stones, osteoporosis, arthritis and joint pain. Over-exercising, especially from cardio, can also increase the likelihood of acidosis, a concern to some athletes.
pH test strips or litmus paper can help people understand more about their pH, depending on the quality. Premium pH test strips give users precise, accurate results in 15 seconds that are easy to read, simple to follow instructions, along with a lifetime guarantee. It's especially important they're accurate, since new users will want to track their pH scores over a 10 day period to get a baseline of their pH balance.
This product has an SRP of $26.95, and is available exclusively on Amazon throughout the United States.