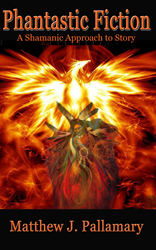 Central to shamanic thought is the concept of transformation which is the essence of Joseph Campbell's Hero's Journey, which is also the essence of story. -- Matthew J. Pallamary
San Diego, CA (PRWEB) December 22, 2014
Long time writing teacher Matthew J. Pallamary's "Phantastic Fiction - A Shamanic Approach to Story" will be released by Mystic Ink Publishing at the 2015 Santa Barbara Writers Conference and will be available in print and e-book formats worldwide through major online retailers, including Amazon, Smashwords, Apple, Barnes & Noble, Kobo, Overdrive, Flipkart, Baker & Taylor, Page Foundry, and many others.
Pallamary's guide to dramatic writing grew out of his popular Phantastic Fiction Workshop which incorporates elements of shamanism that have formed the basis for Joseph Campbell's legendary Hero's Journey. Pallamary's packed workshops have been a staple of the Santa Barbara Writers Conference and the Southern California Writer's Conference for over twenty five years. He has also lectured at numerous other venues and led his own weekend intensive workshops. His next Phantastic Fiction workshop will be February 13th - 15th at the Southern California Writers' Conference in San Diego on President's Day Weekend.
Pallamary has spent extended time in the jungles, mountains, and deserts of North, Central, and South America pursuing his studies of shamanism and ancient cultures. Through his research into both the written word and the ancient beliefs of shamanism, he has uncovered the heart of what a story really is and integrated it into core dramatic concepts that have their basis in shamanism.
His historical novel of first contact between shamans and Jesuits in 18th century South America, titled Land Without Evil, was published by Charles Publishing and received rave reviews along with a San Diego Book Award. It was also adapted into a full-length stage and sky show, co-written with Agent Red and performed by Sky Candy, an Austin Texas aerial group. The making of the show was the subject of a PBS series, Arts in Context episode, which garnered an EMMY nomination.
His memoir Spirit Matters, detailing his journeys to the jungles of Peru, took top honors in the San Diego Book Awards' Spiritual Book Category, and was an Award-Winning Finalist in the National Best Book Awards. It was also released as an audio book, narrated by the author. Originally from Dorchester, Massachusetts, Pallamary has lived in San Diego for the past 36 years. For more about Pallamary, or to book him for speaking engagements or interviews visit http://www.mattpallamary.com.
His recently published tribute to Ray Bradbury, a short story collection titled "A Short Walk to the Other Side" was an Award Winning Finalist in the International Book Awards and an Award Winning Finalist in the USA Best Book Awards.
Other Mystic Ink books have won the following awards:
International Book Award - 1st Place - Nonfiction New Age - The Infinity Zone
San Diego Book Award - Award Winning Finalist - The Infinity Zone
National Best Book Awards - Award Winning Finalist - Spirit Matters
San Diego Book Award - Best Spiritual Book - Spirit Matters
San Diego Book Award - Land Without Evil
Mystic Ink's titles have also won the acclaim of noted writers, among them Ray Bradbury, Charles Champlin - L.A. Times Critic Emeritus, Charles M. Schulz, Barnaby Conrad, Victor Villasenor, David Brin, and noted psychologist Stanley Krippner.
Based in San Diego since 2000, Mystic Ink Publishing is an independent publisher focusing on works of a spiritual, shamanic, new age, or transcendent nature as well as dramatic works of Phantastic Fiction © in the paranormal genres of magical realism, horror, supernatural thrillers, and science fiction.
Based in Santa Barbara, "Innovative Creative Content: What Makes You Different Connects Us All" is a Content Marketing Firm focusing on successful client branding and global marketing through targeted content and storytelling campaigns. For more information, visit their website at http://www.innovativecreative.co or contact them directly at email (at) innovativecreative.co.