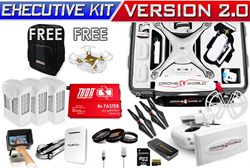 Yorba Linda, CA (PRWEB) July 06, 2016
Drone World has upgraded its best-selling Phantom 4 Executive Kit with three new and exclusive accessories, including industry firsts unseen anywhere else.
This "Version 2.0" Phantom 4 Executive Kit includes three brand new Drone World exclusives: one set of carbon fiber propellers, complete with pre-mounted spin-on adapter hubs; one set of impact-dampening, "Quick-Clip" propeller guards; and a second-generation compact THOR Supercharging Station, capable of charging three batteries simultaneously at a quarter of the time that it would take a standard charger.
The new accessories join an already hefty bundle that includes the Drone World-exclusive Phantom 4 Long Range System, a Nanuk 950 water-resistant hard case, two extra batteries, an L-Series lens filter kit, Transcend memory cards and reader, and much, much more. Buyers also receive a free mini-drone and backpack.
The Ver. 2.0 Executive Kit comes after Drone World slashed the price of its DJI Inspire 1 v2.0 drones and bundles by 35% in early June. The price of the DJI Inspire 1 v2.0 is now $1,999, down from $3,199. The Inspire 1 v2.0 Everything You Need Kit retails for $2,737, while the Upgrade Kit retails for $3,299. The Inspire 1 Pro saw a smaller price drop of just over 10%.
"The new FAA rules on commercial usage make it more enticing than ever to get into professional drones like the Inspire 1," says Drone World sales manager, Brennan Merrill. "The Inspire 1 v2.0's starting price of $1,999 is one of the best deals I can think of."
In another bold move, Drone World will now offer the DJI Inspire 1 Pro RAW Commercial Quadcopter Drone standalone or as part of a bundle. Prices start at $5,399. VP Chris Brunasso explained: "Our commercial customers have expressed serious interest in an Inspire 1 with RAW capabilities and this drone fulfills that plus much more for serious needs."
The Version 2.0 Phantom 4 Executive Kit starts at $2,899. Options include accidental damage insurance, FatShark FPV HD Goggles, HDMI Module, and more. Customers can see the full list of Drone World's Phantom and Inspire selections at drone-world.com
About Drone World: Drone-World.com is the Web's preferred destination for consumer and professional unmanned aerial drones, drone kits, and drone accessories. Drone-World.com combines superior customer service and know-how with over 5 years of drone experience and 10 years of web sales and service. They specialize in custom DJI Phantom bundle kits, including the highly popular DJI Phantom 3 kit, the OSMO kit, the Inspire 1 kit, and the newly released DJI Phantom 4 kit and DJI Phantom 4 bundle.
For more information contact:
(888) 901-3108
sales(at)drone-world(dot)com