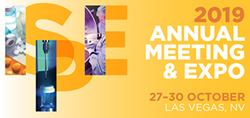 BETHESDA, Md. (PRWEB) August 14, 2019
The International Society for Pharmaceutical Engineering (ISPE) announced its featured speakers for the 2019 ISPE Annual Meeting & Expo. Taking place 27–30 October 2019 in Las Vegas, Nevada, this signature event brings together top pharmaceutical industry and regulatory leaders offering compelling and enlightening presentations and interactive discussions on industry-critical technical developments.
Featured Industry and Regulatory Speakers:
William Anderson, Chief Executive Officer, Roche Pharmaceuticals
William Anderson serves as Head of North American Commercial Operations and Director at Genentech, Inc. Anderson has been CEO of Roche Pharmaceuticals at Roche Holding AG since 1 January 2019. He offers expertise in chemical engineering and management including a Master of Science from MIT.
David Churchward, Expert GMDP Inspector, Medicines and Healthcare products Regulatory Agency
David Churchward serves as an Expert GMDP Inspector for the Medicines and Healthcare products Regulatory Agency (MHRA). He has been a GMDP inspector with the UK Medicines and Healthcare Products Regulatory Agency since 2004. In his current role, Churchward is responsible for providing technical and professional leadership to the MHRA's team of 30 GMDP inspectors.
John Crowley, Chairman, Chief Executive Officer, and Co-Founder Amicus Therapeutics
In John Crowley's drive to find a cure for Pompe disease, he left his position at Bristol-Myers Squibb and became the Co-founder, President and CEO of Novazyme Pharmaceuticals, a biotech start-up conducting research on a new experimental treatment for the disease. Novazyme was acquired by Genzyme Corporation and John continued in a lead development role as Senior VP, Genzyme Therapeutics
Johanna (Joey) Gouws, PhD, Group Lead, Inspection Services, Prequalification Team, World Health Organization
Dr. Joey Gouws is the Group Lead of Inspections of the World Health Organization Prequalification Program, responsible for the oversight of all inspections relating to medicines, vaccines, medical devices and vector control products. Her working experience includes retail pharmacy, hospital pharmacy, and managing the regulatory affairs department for Bayer.
Alistair MacDonald, Chief Executive Officer, Syneos Health
Alistair MacDonald serves as the CEO of Syneos Health and has 20+ years of experience in the biopharmaceutical industry. Alistair served as CEO of INC Research since 2016, leading global operations, driving the company's global expansion, overall project delivery and implementation of new technologies, processes and solutions.
Pierre-Alain Ruffieux, PhD, Head of Global Pharma Technical Operations, Roche Pharmaceuticals
Dr. Pierre-Alain Ruffieux is Global Head of Quality and Compliance for Roche Pharma Technical Operations, responsible for all Pharmaceutical Quality and GMP compliance activities. He brings more than 20 years of experience in technical development, manufacturing and quality. He was most recently a member of the Pharma Executive Committee at Novartis.
The ISPE Annual Meeting & Expo draws global pharmaceutical professionals at all levels of the industry, from young professionals to the most senior executives in drug manufacturing, supply chain, devices and equipment and services, and global regulatory agencies. The unparalleled education program provides attendees with technical sessions on the latest developments in supply chain, facilities & equipment, information systems, process development & manufacturing, quality systems & regulatory oversight, and cutting-edge industry innovations. This year's event will focus on modernization, globalization, and transformation in pharmaceutical science and manufacturing across the globe.
To learn more about this event and to register, visit http://www.ISPE.org/AM19.
About ISPE
The International Society for Pharmaceutical Engineering (ISPE) is the world's largest not-for-profit association serving its members through leading scientific, technical, and regulatory advancement across the entire pharmaceutical lifecycle. The 18,000 members of ISPE are building solutions in the development and manufacture of safe, effective pharmaceutical and biologic medicines, and medical delivery devices in more than 90 countries around the world. Founded in 1980, ISPE has its worldwide headquarters in North Bethesda, Maryland USA, and its operations center in Tampa, Florida USA. Visit http://www.ISPE.org for more information.
For more information, contact:
Amy Henry
International Society for Pharmaceutical Engineering (ISPE)
Tel: +1- 813-960-2105
Email: ahenry@ispe.org
http://www.ISPE.org