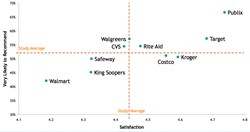 Faced with a plethora of choices, consumers seldom give a pharmacy another chance, so being adequate is no longer good enough.
Boulder, CO (PRWEB) September 18, 2013
Publix Pharmacy is North America's favorite based on customer satisfaction, according to a new study of 3,600 consumers conducted by Market Force Information, a worldwide leader in customer intelligence solutions. Target was a close second and Kroger ranked third. All three received high marks in operational attributes such as service, cleanliness, atmosphere and checkout times.
Market Force's study was designed to uncover which pharmacies consumers prefer for their health and wellness needs, as well as why they favor one pharmacy to another. When asked to rate their satisfaction with their most recent pharmacy experience and their likelihood to refer that pharmacy, consumers scored Publix above all others. Target, Kroger, Costco and Rite Aid also ranked high on the customer delight index, which reveals the intersection between overall satisfaction and the likelihood of recommending a pharmacy to friends/family. See Graph 1.
With over 1,000 supermarkets, Publix is one of the largest regional grocery chains. Currently, more than 80% of the chain's stores have a pharmacy, which are regularly recognized for their high customer satisfaction.
Traditional Pharmacies Still Busiest, But Grocers Making Inroads
Market Force also looked at the types of pharmacies consumers patronize the most, asking where they primarily go for their prescriptions. National and regional pharmacy chains topped the list with 43%, while mass retailers ranked second at 19% and supermarket pharmacies ranked third with 14%. Mail orders through health insurance was a distant fourth with 5%, tying with local "mom & pop" pharmacies. See Graph 2.
When participants were asked to name their primary pharmacy chain, Walgreens (18%) and CVS (17%) were neck and neck, trailed by Wal-Mart (12%), Target (5%), Rite Aid (also 5%), Kroger (3%), Costco (2%) and Safeway (also 2%).
Being "Just OK" Can Be Costly
When it came to customer experience, the results were a mixed bag. Nearly six out of 10 said they were delighted by their most recent experience at the pharmacy, while one-third said it was "just OK" and 10% reported being dissatisfied. This could point to a missed opportunity for pharmacies to garner new business, given that delighted customers are nearly three times as likely to recommend a business to others.
"With national chains, grocery stores, wholesale clubs and mail-order options, there's enormous competition for new customers. Faced with a plethora of choices, consumers seldom give a pharmacy another chance, so being adequate is no longer good enough," said Janet Eden-Harris, chief marketing officer for Market Force. "On the flip side, those that leave a positive impression on their customers can create brand advocates who are likely to recommend to family and friends."
For those who reported dissatisfaction, the biggest reason given was long checkout times. Other cited the inability to find desired products, as well as poor service by pharmacy staff, cashiers and floor associates.
Publix and Target Eclipse Competition in Key Areas
The top performers on the delight index – Publix and Target – rated head and shoulders above the other leading chains in the operational excellence attributes. Publix ranked first for friendly staff, atmosphere and cleanliness. Target led in checkout times, followed by Walgreens and Rite Aid, both of which performed consistently well across most of the categories. See Graph 3.
"We discovered that factors like convenience, friendly service and fast checkouts are prevailing reasons why consumers prefer one pharmacy to another," said Eden-Harris. "Grocers and mass retailers are increasingly investing in these areas to capture more business from conventional pharmacies like Walgreens and CVS, the latter of which was noticeably absent from this ranking."
Costco Price Leader; Safeway Wins Consumer Notice for Loyalty Program
In the all-important pricing category, Costco distinguished itself from the rest of the pack, ranking first with 85%, followed by Wal-Mart with 51% and Target with 42%. Safeway was lauded for having the best loyalty program among the pharmacies studied. Note that while it didn't earn the No. 1 spot in any pricing/marketing category, Target was a top-three finisher in all of these categories. Meanwhile, no one received high marks for sales & promotions or for easy-to-read pricing, with scores in the teens. See Graph 4.
Private Label is Popular
Nearly all of those surveyed (96%) said they choose a store's brand for over-the-counter or nutritional products when faced with an option. Costco's private-label brand was the most popular, and the wholesale club also earned a spot in the top three for one-stop shopping after Target and Wal-Mart. All of the top pharmacies fared poorly in supplying nutrition & health information, highlighting an area where one could possible discern itself from the others. See Graph 5.
Survey Demographics
The survey was conducted in July 2013 across the United States and Canada. The pool of 3,648 respondents reflected a broad spectrum of income levels, with 60% reporting household incomes of more than $50,000 a year. Respondents' ages ranged from 19 to over 65. Approximately 78% were women and 22% were men, and half have children at home.
About Market Force Information
Market Force is the leading global customer intelligence solutions company for multi-location businesses, including major retailers, restaurants, grocery and convenience stores, financial institutions, entertainment studios and consumer packaged goods companies. With more than 125 years of combined industry experience, Market Force Information has pioneered the industry with a suite of customer intelligence solutions – from proprietary decision-support tools to 600,000 field associates across North America and Europe who conduct mystery shopping, to real customer surveys, contact center solutions and social media monitoring. Its solutions enable brands to identify the actions required at the store level to increase customer loyalty and improve financial performance. Market Force was named one of Forbes' America's Most Promising Companies in 2011. For more information, visit http://www.marketforce.com