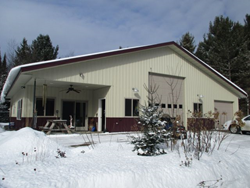 Phelps, WI (PRWEB) February 16, 2016
Micoley.com is thrilled to put Lot 101421 in Phelps, Wisconsin, up for auction. The lot is located on 2283 St. Louis Road and features a house with 40 gorgeous acres attached.
The property is being hailed as a great "up north" retreat ideal as a secondary home, family owner occupancy, or hunting base. The location is considered a "recreational hot spot," as it's found near ATV and snowmobile trails, fishing lakes, recreational lakes, and so much more. It's the ultimate second residence for anyone obsessed with winter recreation.
Property amenities include a large pole building easily capable of housing RVs, snowmobiles, boats, and ATVs. The building also features an upper loft that may be finished as additional living space or expanded to create more room for recreational vehicles and accessories. Other amenities include heated floors throughout the home and garage, and an 8-foot by 14-foot covered patio that easily lends itself to entertaining or relaxing. The property's acres border national forest areas on two sides.
The town of Phelps, Wisconsin, features much in regard to outdoor recreation and community events, and offers endless ways to fill the hours of the day. In addition to birding, boating, camping, fishing, golfing, snowmobiling, and hiking, there are numerous festivals that take place through the year for residents to enjoy. These include musky fishing tournaments, the annual Scarecrow Festival, a 4th of July Parade, Firemen's Picnic, and more. The town is the idyllic setting for anyone looking to surround himself or herself with pristine wilderness and take advantage of the many recreational activities Wisconsin provides.
Lot 101421 goes up for auction on March 30, 2016. List price is $225,000, with an opening bid of $159,900. Contact Micoley.com today to learn more about this beautiful property.
About Micoley.com:
Micoley.com was created to "transform the real estate industry," and functions in conjunction with W.M. Enterprises, Inc. President and CEO, Wade T. Micoley has served as a real estate industry leader for more than 30 years, and continues to provide marketing solutions to his wide range of clients.
"Today we serve the real estate community in both the banking and private sectors with customized, accelerated marketing programs," says W. Micoley. "Programs can be tailored for financial institutions, commercial, and corporate clients as well as the individual property owner to help face our current and unpredictable economic environment. As a result of our aggressive marketing plan, Micoley has successfully assisted many clients across the United States."
For more on available properties, please contact Micoley.com today.