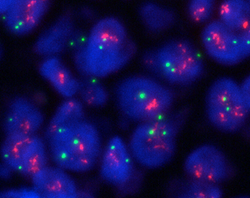 Seattle, WA (PRWEB) January 22, 2014
PhenoPath is one of the first labs in the US to adopt all the complex changes of the 2013 American Society of Clinical Oncology and College of American Pathologists (ASCO-CAP) HER2 Testing Guideline updates in breast cancer. PhenoPath offers both IHC and FISH—including options for alternative Chromosome 17 probes that have been recommended as a means of resolving equivocal cases—and has performed over 10,000 assays of each during the past five years alone. As demonstrated in several publications, PhenoPath's HER2 IHC and FISH concordance rate exceeds the 95% concordance bar. Indeed, our most recent concordance data for 2013 is 97.3% (positive concordance) and 99.2% (negative concordance). Our pathologists are available to discuss or explain these new guidelines by phone (888-927-4366) or by email (lab(at)phenopath(dot)com).
ASCO-CAP released new HER2 testing guidelines in breast cancer in October 2013. PhenoPath has implemented these new guidelines and incorporated all the reporting recommendations. There are significant differences between the new 2013 guidelines and the 2007 guidelines, as noted below:
1. The acceptable duration of tissue fixation has been modified to >6 and <72 hours, which is consonant with the ER testing recommendations from 2010.
2. Patients who develop metastatic disease must now have the metastatic tumor retested for HER2 status, if specimen is available.
3. HER2 test results, and treatment decisions, may be based on either immunohistochemistry (IHC) or in situ hybridization (ISH; fluorescence or chromogenic).
4. The definitions of 3+, 2+, 1+ and 0 IHC scoring have been modified from the 2007 guidelines. In particular, the criterion for designation of 3+ positivity has been changed from 30% to 10% (strong membranous immunostaining).
5. The definitions of ISH positivity have been significantly changed. Under the new guidelines, using a dual (HER2 and CEP17) probe system (as employed at PhenoPath), HER2 amplified cases include those with a HER2:CEP17 ratio ≥ 2.0, independent of the absolute copy number, and also include cases with HER2:CEP17 ratios < 2.0, but with absolute HER2 copy numbers ≥ 6.0.
6. The definition of an equivocal HER2 ISH test has been significantly changed. The 2007 definition of an equivocal ISH test—a HER2:CEP17 ratio between 1.8 and 2.2—is no longer operative. An equivocal ISH test is now defined as one showing a HER2:CEP17 < 2.0 and an average absolute HER2 signal count per cell of ≥ 4.0 and < 6.0.
7. Equivocal HER2 tests must be reflexed to either an alternative ISH chromosome 17 probe, or to the test methodology not originally performed (i.e., run FISH if IHC was run originally and was equivocal, and vice versa). PhenoPath has options for alternative ISH chromosome 17 probe tests; SMS, RARA and p53.
8. Tumor heterogeneity: If there is a subpopulation of tumor cells corresponding to more than 10% of the total tumor population with a different HER2:CEP17 ratio, results on this subpopulation should also be reported.
9. Requirements for initial HER2 test validation changed to be consonant with the 2010 ER and PR testing guidelines.
10. There are some slight modifications to the elements required in HER2 IHC and ISH reports.
References:
1. Wolff AC, et al. Recommendations for Human Epidermal Growth Factor Receptor 2 Testing in Breast Cancer: American Society of Clinical Oncology/College of American Pathologists Clinical Practice Guideline Update. J Clin Oncol. 31:3997-4013, 2013
2. Tse CH, et al. Determining True HER2 Gene Status in Breast Cancers With Polysomy by Using Alternative Chromosome 17 Reference Genes: Implications for Anti-HER2 Targeted Therapy: J Clin Oncol 29:4168-4174. © 2011 by American Society of Clinical Oncology