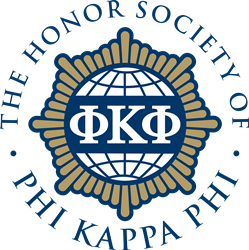 "It offers our chapters the opportunity to partner with and support a literacy-focused cause in their local communities and aptly reflects Phi Kappa Phi's mission of excellence, engagement, and service."
BATON ROUGE, La. (PRWEB) September 30, 2019
Beginning tomorrow, Oct. 1, The Honor Society of Phi Kappa Phi chapters will take part in the inaugural Fall Service Project initiative. Established by the Society's Council of Students, chapters are encouraged to focus on a community need with a literacy component and to establish a partnership with a community agency.
Interested chapters can participate in the service project by addressing literacy needs of the community. Some examples include adult literacy, environmental literacy, computer literacy or financial literacy.
"The new Fall Service Project is a natural extension of the very successful book drives led by student vice presidents for the past six years," said Society Executive Director Dr. Mary Todd. "It offers our chapters the opportunity to partner with and support a literacy-focused cause in their local communities and aptly reflects Phi Kappa Phi's mission of excellence, engagement, and service."
The service project can take place for any length of time during the month of October. One chapter from each division will be honored for their commitment to the community with a prize of a monetary contribution of $200 to the community organization involved in their project.
About Phi Kappa Phi
Founded in 1897, Phi Kappa Phi is the nation's oldest and most selective collegiate honor society for all academic disciplines. Phi Kappa Phi inducts approximately 30,000 students, faculty, professional staff and alumni annually. The Society has chapters on more than 300 select colleges and universities in North America and the Philippines. Membership is by invitation only to the top 10 percent of seniors and graduate students and 7.5 percent of juniors. Faculty, professional staff and alumni who have achieved scholarly distinction also qualify. The Society's mission is "To recognize and promote academic excellence in all fields of higher education and to engage the community of scholars in service to others." For more information, visit http://www.phikappaphi.org.