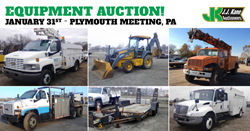 Plymouth Meeting, PA (PRWEB) January 26, 2015
PECO, PPL Electric Utilities, Baltimore Gas & Electric, PSE&G Company, Atlantic City Electric, PEPCO and other area contracts offer surplus vehicles and equipment to the general public through JJ Kane's auction. More than 650 used cars, bucket trucks, cranes, dump trucks, vans, and pickups will sell with no reserve!
The public auction is will be held at the Danella Line Services Yard, 1402 Conshohocken Road, Plymouth Meeting, PA, 19462, with bidding beginning at 8:30 a.m. Saturday January 31st. Bidders can participate in person or online. Items are available for public inspection on Friday January 30th, 8a.m.-4 p.m. and also beginning at 7:00 a.m. on auction day. Several times each year retiring autos and equipment are offered for sale to the general public at this auction.
JJ Kane auctions are unreserved. That means that everything sells to the highest bidder, regardless of price. Owners are not allowed to bid on equipment they have consigned to the auction.
"At JJ Kane, we connect buyers with equipment they need through a simple process where anyone can buy or sell in person or online. Sellers benefit from a convenient, cost-effective way to sell equipment. Buyers like the fact that they can kick the tires and inspect the items personally, prior to the auction," says Joe Kane, founder of JJ Kane Auctioneers.
About J.J. Kane
JJ Kane is a leading nationwide auction company reselling vehicles and equipment through a convenient process where buyers participate in person and online. JJ Kane delivers buyers the information they need through mobile apps and the latest technology. Their focus on serving the customer has made the company one of the most successful auction houses, serving buyers and sellers of used construction equipment both in the U.S and across the globe.