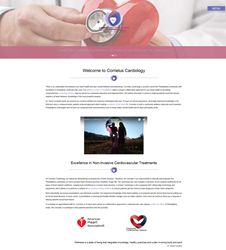 I am thrilled to launch a website that gives others easy access to heart health information that could literally save their lives, says Dr. Corrielus.
Philadelphia, PA (PRWEB) November 01, 2016
Corrielus Cardiology is a Philadelphia cardiovascular care center that is driven by community education and empowerment as a means to support better heart health and help patients avoid emergency room visits, save money and live longer, healthier lives. The center values the link between heart health and overall wellness. In doing so, they offer a unique integrative approach to cardiovascular care with a strong focus on educating the community on how lifestyle habits affect the heart. The new website recently launched by Corrielus Cardiology greatly facilitates this mission to educate the Philadelphia community.
The Corrielus Cardiology website provides easy navigation and expansive information on a full range of heart conditions and cardiovascular symptoms, ranging from Peripheral Artery Disease (PAD) and Congestive Heart Failure to arrhythmia and hypertension. In addition to the comprehensive information about the conditions treated at Corrielus Cardiology, the site also lists a number of cardiac testing methods offered at the Philadelphia wellness center. The care offered at Corrielus Cardiology uses integrative medicine, preventive screenings and non-invasive treatments as a primary approach to heart health
Sanul Corrielus, MD, MBA, FACC leads Corrielus Cardiology as a reputable board certified non-invasive cardiologist. He brings deep experience in his field and a passion to serve and empower the Philadelphia community. "I am thrilled to launch a website that gives others easy access to heart health information that could literally save their lives," says Dr. Corrielus.
More about Dr. Sanul Corrielus:
Dr. Sanul Corrielus is a board certified cardiologist with over 16 years of clinical experience. He brings elite training and a unique holistic approach to cardiology. Dr. Corrielus completed his internal medicine residency at Temple University Hospital. He earned a Healthcare Executive M.B.A. from Alvernia College in Reading, Pennsylvania. His medical education is from the University Of Rochester School Of Medicine, where he graduated Magna cum Laude. Dr. Corrielus is a community activist and founder of Community Cardiovascular Initiative, a non-profit organization that focuses on providing integrated cardiovascular health and wellness education to underserved communities.
To learn more about the cardiovascular services offered at Corrielus Cardiology in Philadelphia, please visit their new website at corrieluscardiology.com or call (215) 383-5900.
Prepared by: Find Local Company