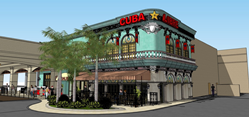 We believe in the future of the Island of Enchantment, and we're putting our money where our mouth is
PHILADELPHIA (PRWEB) December 17, 2019
Cuba Libre Restaurant & Rum Bar is poised for expansion into new markets in the new year, including a first-time foray outside the continental U.S. – to the Commonwealth of Puerto Rico.
Longevity and success are not easy achievements in the competitive culinary business. However, as the Philadelphia-based restaurant brand gets ready to celebrate its 20th year in business, instead of resting on its laurels, the nationally recognized restaurant group is playing a role in helping to rebuild post-Hurricane Maria Puerto Rico, one empanada at a time.
Cuba Libre, an affiliate of GuestCounts Hospitality, LLC, is set to break ground in San Juan in January of 2020 with the hope of stimulating economic development to an area ravaged by the deadly hurricane. Two years after the catastrophic Category 4 storm ripped through the island, causing more than $100 billion in damage, the Miami Herald reports the U.S. territory is slowly starting to rebound as the island shifts from recovery to long-term infrastructural refurbishment.
"Lease negotiations were nearly complete when Hurricane Maria hit on September 20, 2017," said Barry Gutin, Principal & Co-Founder, GuestCounts Hospitality. "After the hurricane, we hired a number of residents displaced by conditions on the island. Through our efforts to raise funds for those in need, we learned about the resilience, spirit, and determination of Puerto Rico residents, as they supported each other during the aftermath of the storm. We decided to invest in post-Maria Puerto Rico to help in the commonwealth's economic recovery and to provide opportunity for our employees from Puerto Rico who hope to move back to the island, as well as restaurant workers still there. We believe in the future of the Island of Enchantment, and we're putting our money where our mouth is," he added.
The 10,000 square foot restaurant located in the Plaza Las Américas Shopping Center in San Juan PR is expected to deliver millions of dollars in economic impact and create more than 200 new restaurant and construction jobs. It will represent an investment of $8.6 million.
Cuba Libre's newest location will be a free-standing building built from the ground up at the main entrance to Plaza Las Américas, a 1.9 million square-foot mall in the heart of San Juan. With construction beginning in the first quarter of 2020, the sixth Cuba Libre Restaurant & Rum Bar location is expected to open for patrons in January 2021. Cuba Libre San Juan will feature soaring ceilings, dramatic interior and exterior designs, a signature wood-burning Latin Grill and Chef's Counter, and the capacity to seat 290 guests.
The culinary program at Cuba Libre San Juan will be led by the vision of two-time James Beard award-winning Chef-Partner Guillermo Pernot. The restaurant provides guests with a culinary passport to Cuba's intriguing flavors and culture. The menu's tantalizing tastes reflect Cuba's culinary traditions, as well as the emerging modern cuisine that Pernot has experienced during his continuing travels to Cuba. The restaurant's name, which translates to "free Cuba," channels hope for the future of the island nation.
Plaza Las Américas is the largest shopping center in the Caribbean, located in the densely populated urban neighborhood of Hato Rey in the capital city of San Juan. It was the first enclosed mall built in Puerto Rico and is near the Roberto Clemente Coliseum, Hiram Bithorn Stadium, and the center of Puerto Rico's economy, Milla de Oro (Golden Mile) — San Juan's international finance district. The mall generates 8,000 local jobs and has an annual economic impact of approximately $268 million. "The addition of Cuba Libre to Plaza Las Américas tenant's roster, expands our food and entertainment offerings as well as supports the revitalization of the local economy with a significant investment and new jobs" said Jaime Luis Fonalledas, Executive Vice President of Plaza Las Américas.
Unlike most U.S. shopping centers, Plaza Las Américas is a unique combination of downtown and Main Street, providing San Juan residents access to essential services and many entertainment offerings. "It was the first shopping center to open after the hurricane, eleven days after the devastating storm hit, and provided its customers electrical outlets to charge cell phones, computers, wheelchairs and other electrical equipment, as well as installing work stations for displaced residents," explained Gutin. The mall includes a 12-story office building with 63 different offices including doctors, medical specialists, dentists, labs and attorneys, as well as several key government offices. The center also features five banks, a post office, passport services and a permanent taxi station.
Cuba Libre San Juan will be the sixth location for the brand, which first opened in Philadelphia in 2000 to critical acclaim, followed by Atlantic City (2004), Orlando (2008), Washington D.C. (2010) and Fort Lauderdale (late summer 2020). The company is currently exploring opportunities in Tampa, Chicago, Boston, Detroit, Las Vegas and Atlanta.
The restaurant is an affiliate of GuestCounts Hospitality, which has operated a diverse portfolio of restaurant and nightlife concepts. Principals Barry Gutin and Lawrence Cohen bring a unique combination of expertise to each of their projects, and have been partners in the hospitality business since 1995. For more information about Cuba Libre, please visit http://www.CubaLibreRestaurant.com. For more information on GuestCounts Hospitality, please visit http://www.GuestCounts.com or call 215.922.3200.