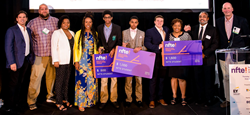 PHILADELPHIA (PRWEB) May 22, 2019
Three young entrepreneurs from area high schools won top honors in the NFTE (Network For Teaching Entrepreneurship) Philadelphia Metro Youth Entrepreneurship Challenge held at The Down Town Club on May 16.
The students pitched their business ideas to a panel of expert judges, competing for cash prizes and a free trip to New York City this fall to represent the Philadelphia region in the next round of nationwide competition. The first and second place winners at the Philadelphia regional finals now advance to the quarterfinal rounds of NFTE's National Youth Entrepreneurship Challenge, where they'll go head-to-head with other top young entrepreneurs from across the U.S., competing for seed capital to grow their businesses or pursue educational goals.
The results of the Philadelphia Metro regional finals:

Joseph Taylor, a senior at Newark High School in Newark, DE, took first place with a business pitch for Re-Wired "Full Circuit", an innovative, pressure-sensitive wireless charging pad that connects directly into your home's power supply to charge your car.
Samuel Johnson, a junior at Roxborough High School in Philadelphia, PA, took second place with a pitch for Inquest, a customizable college recruiting app that matches athletes with college coaches, identifying the best players and suggesting the best college fit based on what the coach and the athlete are looking for.
Daeshawn Crippen, a junior at Roxborough High School in Philadelphia, PA, took third place with a pitch for NewCompass, a business that encourages users to experience the real world around them while keeping in touch with what they are comfortable with: technology.
Student business pitches were judged by a panel of experts that included:

Maxine Gaiber, Consultant & Interim Executive Director of Carpenters Hall
Andrew Jordan, Partner, Ernest & Young, LLP (EY)
Sylvester Mobley, CEO of Coded by: Kids
Angela Moultrie, EVP & Region President PA/NJ Central of Santander Bank
Dr. Leroy D. Nunery II, Founder and Principal of PlūsUltré LLC
A special award was presented during the evening event. TD Bank, NA was honored with the NFTE Philadelphia Metro Corporate Volunteer of the Year Award. The Individual Volunteer of the Year Award went to Armard Bellamy, Dispatch Supervisor for Guru.
The NFTE Philadelphia Metro Youth Entrepreneurship Challenge was presented by EY, Microsoft and Santander with additional support from Campus Apartments, DSA, Evergreen Apartment Group and TD Bank. The evening event was emceed by Tiffanie Stanard, founder and CEO of Stimulus, a relationship intelligence platform that helps companies build better relationships. The guest speaker was David Adelman, CEO of Campus Apartments, one of nation's largest providers of on-and off campus student housing.
###
About NFTE
NFTE is the leading educational nonprofit focused on teaching startup skills and activating the entrepreneurial mindset in young people from under-resourced communities. Research shows the entrepreneurial mindset—skills including problem-solving, adaptability, initiative, and self-reliance—leads to lifelong success. Equipped with the business and academic skills NFTE teaches and empowered by the entrepreneurial mindset, NFTE alumni are prepared to thrive. NFTE works with schools and community partners across the country through its nationwide network of program offices. Alliances with global youth development organizations bring NFTE programs to additional students internationally. NFTE reaches more than 100,000 young people annually and has served well over a million students since its founding. Learn more at http://www.nfte.com.
MEDIA CONTACT
Ashley Johnson
mediainquiries(at)nfte.com
(212) 232-3333