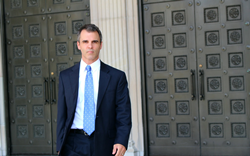 "Bed sores are almost entirely avoidable. When a resident comes into a nursing home, they should be immediately assessed. Many elderly are at risk for developing bed sores. A Care Plan should be devised and followed. If it is not, that's when injury is likely to occur."
PHILADELPHIA (PRWEB) October 29, 2019
Bed sores are wounds that occur when a person is left for prolonged periods without being turned or moved. They mostly develop at nursing homes/assisted living facilities/hospitals when residents are unattended in beds or wheelchairs. Bed sores are almost entirely preventable.
Known throughout Philadelphia and in the states of PA & NJ for hospital/care facility/nursing home abuse lawsuits, Attorney Brian P. Murphy regularly litigates cases pertaining to pressure ulcers (bed sore) and wrongful death.
In a recent lawsuit (Docket #BUR-L-002324-17, Superior Court of New Jersey, Burlington County Law Division), Brian discovered that multiple failures at the facility led to the development of the pressure ulcer. Mr. Murphy also discovered that there were efforts within the facility to fraudulently conceal & alter medical records. There had even been instances where staff members had documented that they were providing care to the resident, yet the resident had already been moved out of the nursing home. He was relocated to the hospital during the time of false charting. As a result, the nursing home settled the case.
In addition to wrongful death caused by bed sores or pressure ulcers, Mr. Murphy litigates nursing home lawsuits including, but not limited to, the following:

Elder Abuse
Elopement
Falls/Fractures
Infections
Medication Errors
Nursing Home Injuries
Dehydration
Poor Hygiene
False Charting
Wrongful Death
And other causes of Neglect and/or Abuse
Nursing Home Abuse Lawyer, Brian P. Murphy, offers Free Consultations to individuals who suspect abuse or neglect. All cases are handled on a contingency fee basis, which means that there are no upfront fees, and you will not be charged until the case settles, at which time Mr. Murphy will be reimbursed for his costs and legal fees.
Contact the Attorney
For more information about dehydration, wrongful death, NJ/PA nursing home neglect lawyer Brian Murphy, or to schedule a free consultation, please contact the attorney.
Press release writing by WebSiteText.com | Proofreading by TheProofreaders.com