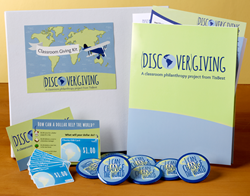 This program is extraordinary in its ability to empower students.
Seattle, Wash. (PRWEB) November 27, 2013
TisBest Philanthropy announced today the organization's new philanthropy education program is a finalist in Stanford University's Compassion and Technology contest. The DiscoverGiving program will be presented on stage during the Compassion and Technology Conference on December 6, 2013, competing with nine other technology programs that focus on compassion and altruism.
"We are incredibly honored to join the other finalists during the Compassion and Technology Conference at Stanford," said TisBest Executive Director Jon Siegel. "The DiscoverGiving program provides elementary school teachers with the technology and curriculum to bring philanthropy, generosity and altruism into the classroom. The conference will be an exciting opportunity for us to share our passion for introducing students to the joy of giving."
The inaugural Compassion and Technology Conference is an innovative event presented by the Center for Compassion and Altruism Research and Education (CCARE). The event is presented in collaboration with Facebook, 1440 Foundation, HopeLab and The Dalai Lama Foundation. Held at Stanford University on December 6, 2013, the one-day event will include talks by academic experts, tech industry leaders, and the 10 Compassion and Technology Contest finalists.
"We will be sharing details about DiscoverGiving's research-based curriculum, and the unique technology we have created to connect students to causes they feel passionate about," said TisBest Education & Charities Manager Karli Larson, who will be representing TisBest at the conference. "This program is extraordinary in its ability to empower students and change the perceived limitations our culture places on children. Each DiscoverGiving student completes the program knowing that he or she can make a difference in the world. We're thrilled to share this experience with conference attendees at Stanford."
Finalists will each have 10 minutes to present their compassionate technology during the second half of the conference. Three winning finalists will be selected to receive a 1440-CCARE Award (one $10,000 award and two $5,000 awards), and an hour consultation with the operating partner of the growth capital fund The Bridge Builders Collaborative. The winning finalists will also have an opportunity to meet His Holiness the 14th Dalai Lama during his visit to the Bay Area in February 2014.
About TisBest Philanthropy
TisBest Philanthropy is a 501(c)(3) nonprofit organization dedicated to fostering the growth of non-material gift-giving. TisBest created charity gift cards in 2007. Charity gift cards work like conventional gift cards, but with one important exception: the recipient of a charity gift card "spends" it by choosing a charity to receive the funds.
With a TisBest Charity Gift Card, you make the donation and your recipient decides how to spend the donation, choosing from TisBest's 300+ charity partners. Learn more at http://www.tisbest.org.