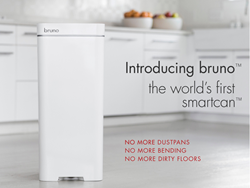 I've worked with hundreds of individuals and companies on crowdfunding campaigns and I've never seen this level of interest in a consumer campaign
Tulsa, OK (PRWEB) May 07, 2015
Jim Howard and Lori Montag are serial inventors that look at the world and everyday items differently than most. While the two have an uncanny history of bringing successful products to market, the latest invention "Bruno™" appears destined fill a niche in which the technology has not changed in decades. The "Bruno™" Smartcan™ is light years ahead of the typical kitchen trashcan.
"Bruno™" is uncomplicated with a graceful profile, patent pending technologies and an integrated vacuum system that creates amazing results in home cleaning maintenance, organization and aesthetic appeal. Bruno's integrated floor level vacuum system will deliver every dog hair, cheerio and grain of dirt from the floor directly into the trash bag. Simply place a broom in front of the vacuum inlet to start the suction, and "Bruno™" will do the rest.
"Bruno™" is also wifi enabled and has a smartphone app will send a reminder alert to take the trash out on trash day, and issue alerts when the system is low on Bruno Bags (or any standard kitchen trash bags).
The inventors are currently involved in multiple conversations with various national and international companies that are interested in licensing "Bruno™" or possibly acquiring the company.
Right now the "Bruno™" Smartcan™ is only available on Kickstarter, where the crowdfunding campaign surpassed its $50,000 funding goal within 48 hours, and has currently raised close to $80,000 (with 27 days to go).
"I've worked with hundreds of individuals and companies on crowdfunding campaigns and I've never seen this level of interest in a consumer campaign. It appears that every person who sees or reads about "Bruno™" and what its capable of, has to have one. It's an amazing phenomenon for such a simple household issue. Jim and Lori have managed to take a previously boring kitchen trashcan and add such features as an integrated vacuum inlet, smartphone integration, a hands free motion-sensing lid and multiple other technologies that no one has ever thought to combine and have ended up with a wildly successful crowdfunding campaign," stated Philip Cardwell, CEO of Crowdfunding Accelerator.
Jim Howard and Lori Montag are no strangers to success. The two serial inventors have a successful history together of bringing incredible products to the market, such as Zanybandz (the silicone rubber band bracelet craze that swept the nation in 2009-2010) and Slapwatch. The two, or their products have been featured on The NBC Today Show, The Ellen Show, CNN, Good Morning America and Rolling Stones Magazine, to name a few.