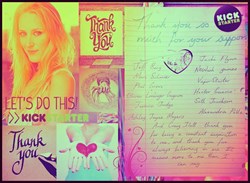 Take the Reins is a rare type of film that actually provides the viewer with a takeaway that has the potential to be life changing.
Los Angeles, CA (PRWEB) December 20, 2013
Life - choices - paths – most people have the opportunity to freely express individual choices every day. Take The Reins - is a story about this and that - the options that make all the difference - in the life of Simone. Simone could end her life - Simone could live a beautiful life - this story is about the glimpses of what two paths could look like in the life of one woman - if only she could connect with people or not. It is also based on the true story of a woman (Simone) who did die in 2010 - leaving her final thoughts on Facebook - reaching out to her Facebook friends while depressed and alone with this final statement, "Took all my pills be dead soon so bye bye every one" only to be ridiculed. The movie shares the possibilities and reminds everyone that it's all too easy to forget the people behind the "screen." Take The Reins suggests that we can all make a difference - for someone.
'Take the Reins' is a film that needs to be made and Emma Barrett (the filmmaker) is not going to give up until this project is completed. It's a rare type of film that actually provides the viewer with a takeaway that has the potential to be life changing. Emma recently recorded a video interview that explains: http://youtu.be/yJOyd5lC1rU.
It's not Emma's first attempt to crowdfund the film project. Emma's previous attempt to raise funds for the film was cut short, when she cancelled the project after bringing in 100 backers. According to Emma, "With this (redesigned) campaign, I really hope to inspire people to take those scary risks when it comes to vulnerability. I think one of the biggest mistakes I made in the original campaign was that I'd talk about the value of opening up and exposing vulnerability… yet, for my part, I wasn't 'walking the walk' and opening up to my supporters, the way I was urging them to do."
"So, I decided to write a farewell statement, standing in the shoes of my film's main character, Simone, just after she's finished taking the fatal overdose that will ensure her death. The clock is ticking away the minutes before the drugs fully take hold. I put myself in this place and from there, I started writing," continued Emma.
"It was a very difficult and confronting challenge. I wrote down the words that felt to me, in that moment, the most unreservedly raw and truthful words I could find… not to mention, terrifying to put on paper. And although, mercifully, I've never had to endure anything like the rapid, physical deterioration Simone's body went through; the truth of the letter is very much my own, and these words spoken from my soul," concluded Emma.
Emma's second attempt at crowdfunding the film project is gaining the film recognition that was missing the first time. According to Kicktraq, the Kickstarter crowdfunding film project, "Take the Reins" is now ranking number 3 (out of 31,526 Film & Video projects on Kickstarter). Not only is the film moving up in the ranks, but the subject matter that the film addresses is bringing the project support from groups that deal with social issues. Recently, The Suicide Study Group posted on Emma's Facebook page, "…That is a first for us at SSG. One of our most important areas of interest is how the internet, particularly social networking, can influence suicidality – both positively and negatively… Simone's voice deserves to be heard, just as it should have been heard when she was crying for help…"
'Take the Reins' is currently 29% funded, with 11 days remaining in the crowdfunding campaign. The project can use your help to bring this wonderful film project to the screen. To participate, visit the project Kickstarter page located at: http://www.kickstarter.com/projects/emmabarrett/take-the-reins.
Regardless of whether or not you make a donation, please pass the project information along to friends and family. Suicide is an epidemic that is out of control. According to recent statistics, over 38,000 people in the United States die by suicide every year. Adding detail to that grim fact, there are an estimated 8-25 attempted suicides for every suicide death. Please help.
ABOUT
Emma Barrett is an Australian Actress who recently moved to Los Angeles from New York. After overcoming the initial teething problems involved with starting a new life in the City of Angels, Emma made it her mission to dig beneath the surface of Los Angeles to find the true artists; the gems of LA… instead of those who only strive for acceptance in fashionable society, and are consumed by the fickle concepts of fame and fortune. Emma's complete actor profile, along with photos, can be found on ActorsCrowd.com.
ActorsCrowd.com is an incomparable resource for actors and filmmakers who are seeking to connect, create mutually valuable relationships and together build outstanding successful film projects. The company caters to actors and filmmakers - delivering on the most pressing challenges that both parties face: Actors benefit by making the best use of their time, money, brand and presence to facilitate finding the best roles which advance their career. Filmmakers' benefit by finding the best talent, support and commitment in funding to deliver their creative projects.
Universal Media Consultants is an advertising and marketing agency that provides crowdfunding promotion. The company is highly active in the crowdfunding sector and is providing advertising, marketing and crowdfunding promotion services to a wide range of crowdfunding projects at no initial costs to the client.
IndieFund.it is a boutique creative agency providing crowdfunding campaign management services as well as assisting crowdfunders in the development and delivery of a well-founded campaign model. The company assists in all facets of campaign definition, planning, pre-launch, launch and post-launch activities. Bringing together a best in class team providing social media strategy, media production, campaign production, business planning, strategic marketing and crowdfunding expertise - IndieFund.It is committed to small business crowdfunding success.