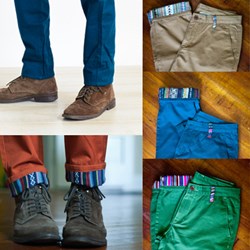 We've added an element of our own that makes this trouser absolutely one of a kind
Birmingham, AL (PRWEB) November 05, 2013
Finn Apparel, a new clothing startup based in Birmingham, Alabama, believed that the fashion industry was missing a new twist on an old wardrobe staple and decided to make their mark by introducing the Finn Cuffed Chino. The company turned to Kickstarter in order to raise the funds and launch their clothing worldwide.
Apparently the three founders of Finn Apparel (Dustin Vann, Cody Foster and Michael Rosato) were correct in their assessment. While less than half of all crowdfunding campaigns listed on Kickstarter ever reach full funding, Finn Apparel quickly surpassed the goal of $14,800 and is rapidly approaching becoming 200% funded with 259 backers. The founders attribute their success to their unique cuffed chino and its broad appeal. "The Finn Hem Trouser blends modern and vintage by offering a timeless, tailored fitting pant with a subtly accented one of a kind hem. The trouser is the perfect fit, feel, and style that every fashion forward male has been looking for, but it's even more than that. We've added an element of our own that makes this trouser absolutely one of a kind." stated Dustin Vann.
"Cody, Mike, and I spent a lot of time searching for our similar yet very distinct tastes in style through different brands and clothing lines, department stores, boutiques, thrift shops, and vintage stores all over the world – and the song remains the same – We're still constantly looking and laboring over the ideas for incredible pieces of subtle sophisticated apparel – This search eventually brought us together with the idea of designing and building our own unique collections and sharing them with the world through Finn Apparel. We came together to launch Finn Apparel and stop the search by making unique, sophisticated, and stylish apparel for men of the highest quality - starting with a flagship twist on the classic trouser," stated Finn Apparel Cofounder Michael Rosato.
"The Finn Hem trouser is a timeless piece where vintage meets modern. Built around a slim straight fit with the perfect rise; not too skinny, not too loose with an unmatched comfort in the perfect cotton twill. We've spared no expense in the quality, detail, and design precision that go into this trouser. It's a true portrait of excellence," concluded Rosato.
When it came to launching a brand Finn connected with Philip Cardwell at Universal Media Consultants and John-Michael Scott and Indiefund.it. Philip and John-Michael, partnering with scrappy startups like Finn, brought the marketing and launch campaign strategy skills to the team and are working hard with Dustin, Cody and Michael to share Finn Apparel with the world through their crowdfunding campaign and elsewhere!
The Finn Apparel crowdfunding campaign will end on Friday, November 22nd. Anyone interested in purchasing the company's clothing, can do so through Kickstarter.
About the companies:
Finn Apparel embraces all-things digital, humanitarian, hip and forward-thinking and believes in leveraging the power of social media to discover and foster progressive ideas that help change the world—even if by one, strategic thread at a time. Shop Finn Apparel to "Find What You Look For"
Universal Media Consultants is an advertising and marketing agency that provides crowdfunding promotion. Philip Cardwell, the company's Founder, is highly active in the crowdfunding space and is providing advertising and marketing services to a wide range of crowdfunding projects at no initial costs to the client.
IndieFund.it is a boutique creative agency providing crowdfunding campaign management services as well as assisting crowdfunders in the development and delivery of a well-founded campaign model.