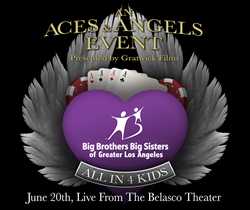 The event is expected to draw dozens of celebrities and professional poker players
Los Angeles, CA (PRWEB) April 28, 2015
Gratwick Films, Javelina 98 Productions and Aces & Angels are proud to announce the trio will co-host a Celebrity Poker Shoot-out at The Belasco Theater to raise funds for Big Brother Big Sister of Greater Los Angeles and a national charity voted on by the online audience. The event is expected to draw dozens of celebrities and professional poker players to hit the gaming tables to raise public awareness and funds for the charities, prior to Gratwick's crowdfunding project.
The fun-filled, interactive fundraiser will also provide an unforgettable evening of charitable casino gaming, premium cocktails, and delicious cuisine. The poker tournament will feature a Shootout style format with celebrities and professional poker players joining each table to play with guests for a Grand Prize entry ticket into the main event of this year's World Series of Poker in Las Vegas. Starting with the red carpet arrivals at noon, the entire event will be streamed live on Youtube at http://youtube.com/JustDriveTheMovie as part of a one of a kind kick-off to a crowd fund campaign to make the film Just Drive and use it as a vehicle to support children's charities.
The ten-hour web-a-thon will feature live entertainment, comedians, celebrity pop-ins and online guests, even members of the audience, from around the world. Backers of the campaign will have the opportunity to vote on the charity the campaign and film will benefit as well as issue event bounties for guests to complete to increase their chances of winning prizes. For guests not participating in the poker tournament there will be innovative entertainment to go with games of nostalgia for a chance to win a grand prize vacation package to Catalina Island and many other prizes.
"Gratwick Films strives to find ways to benefit charitable causes with our work. Our unique crowd-fund campaign allows us to provide free entertainment and a positive social impact before we asked the crowd to support our plan to be the change we want to see in this world," Stated Kris Hulbert, of Gratwick Films.
The Belasco Theater is located at 1050 South Hill Street in Los Angeles, CA. A VIP meet and greet will be held at 1:00 PM. Cards fly at 2:30 PM with closing entertainment in the Theatre at 9:30PM.
For all sponsorship inquiries, please contact Kristin Thomas of Mountain Girl Productions @ (704) 369-1492 or email mountaingirlproductions@gmail.com. Seating for the tournament will be by private invitation only and anyone who wants to participate or attend the event is encouraged to register by email at allin4kidspokershootout@gmail.com. A limited number of general admission tickets will go on sale May 20th at http://allin4kids.com.
Current Sponsors include Rob's Limousine and Artist Vodka
About Gratwick Films
Gratwick Films is leading the social revolution for filmmakers to create entertainment that supports charities and causes that positively impact communities. This new model for filmmaking, called Social Filmmaking, uses social media to create a direct connection between creator and consumer, while operating in total transparency so that the crowd can hold Gratwick Films socially accountable to its charitable intentions.
About Belasco Theater
Located in downtown Los Angeles, The Belasco Theater is a world-class multi-purpose event and entertainment complex. Thanks to a $12 million restoration, this 40,000 sq. ft. venue retains most of its original architecture and design—including dramatic interior detailing—meshed with distinctly modern flair and state-of-the-art sound and lighting technology. These elements combine seamlessly for a truly one-of-a-kind nightlife and special event destination. Masked in tradition, The Belasco Theater is ushering in a new standard for the entertainment experience. The Belasco Theater, one of Downtown Los Angeles' most venerable landmarks ready to make history once again.
About Aces & Angels
Aces & Angels produces the highest profile charity poker events in the USA including the Guns 'n Hoses Poker Tour™, the Alumni Poker Tour™, the annual Hold'em for Heroes™ event that takes place annually at the Super Bowl, the World Series of Poker Experience in Los Angeles, the William Jefferson Clinton Foundation Charity Poker Tournament, the Wall Street Poker Showdown™ in New York City, the Congressional Poker Classic™ in Washington DC, the Texas State Poker Championships™, the Kosher Poker Tour™, and the Houston Oil & Gas Poker Classic. Aces & Angeles has raised over $5 million for nonprofit partners and provided hundreds of thousands of dollars of donated tickets for our nation's troops, wounded warriors, firefighters and law enforcement officers. Aces & Angels has been featured on the Aces & Angels episodes of Gene Simmons Family Jewels and Shipping Wars, both on A&E Television and seen around the world in 86 countries. For more information visit http://www.Aces-Angels.org