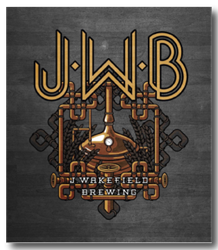 ...the J Wakefield Brewing Crowdfunding campaign has been one of the most successful craft beer crowdfunding launches in history.
Miami, FL (PRWEB) September 10, 2013
Just like the craft beers that Johnathan Wakefield has been making for years, the J Wakefield Brewing Crowdfunding campaign has been one of the most successful craft beer crowdfunding launches in history. Within 24 hours of the launch, the campaign is easily expected to have reached 75% of its $55,000 goal.
Johnathan Wakefield has been in Florida making unique craft beers since 2007, when it began with a simple home-brewing kit that was purchased and installed in a garage. There was no formal training, just culinary instincts and passion for the art of brew. For three years recipes were designed, fermented, and enjoyed by friends and family. Finally came a day of reckoning when this small garage brewer was invited to Tampa, Florida to brew his concoctions in a professional environment and on a large scale. The results speak for themselves. Johnathan's brews quickly began to garner the attention of craft beer aficionados and earned two of the top five spots in the 2013 World Rankings.
"I've had a lot of time to work with the craft and create some brews that I'm really proud of! Now, it's time for me to take it to the professional level and open up the doors of the J Wakefield Brewing down here in Miami. I'm here to share my passion for great beer and to bring professional craft beer to a new level here in Miami," stated Johnathan, Founder of J Wakefield Brewing.
When the decision was made to use crowdfunding to finance the venture, Johnathan knew exactly where to turn... CrowdBrewed.com. Through CrowdBrewed, brewers use "crowdfunding" to raise the cash necessary to get their projects off the ground. This is a way for brewers to seek small financial donations from large groups of people rather than huge amounts from small groups of investors.
CrowdBrewed has become the "de facto" standard for craft beer crowdfunding ever since USA TODAY ran an article in August, touting the company as "the first-ever crowdfunding site designed specifically for craft beer entrepreneurs."
As for Johnathan's future plans, he envisions a Miami-style brewery in the dynamic and rapidly growing Wynwood Arts District. This unique, home-grown concept will fit in perfectly in with the 70 or so art galleries, funky thrift stores, antique shops, eclectic bars, and amazing outdoor graffiti that define Wynwood.
"This is one of the most fascinating crowdfunding campaigns that I and John-Michael Scott have ever been involved with. This is what crowdfunding is meant to be about. Here's a guy with a passion that he wants to share with the world (beginning with Miami) and looking at the rate of contributions flowing into the campaign, Miami is telling him, 'not only do we welcome your brewery, we want to be a part of your dream'. With the combination of Johnathan's work ethic, great brews and CrowdBrewed.com's loyal following, I don't expect this crowdfunding campaign to last very long," stated Philip Cardwell, Crowdfunding Campaign Promoter and Founder of Universal Media Consultants.
About The Companies
Universal Media Consultants is an advertising and marketing agency that provides crowdfunding promotion. The company is highly active in the crowdfunding space and is providing advertising and marketing services to a wide range of crowdfunding projects at no initial costs to the client.
IndieFund.it is a boutique creative agency providing crowdfunding campaign management services as well as assisting crowdfunders in the development and delivery of a well-founded campaign model. The company assists in all facets of campaign definition, planning, pre-launch, launch and post-launch activities. Bringing together a best in class team providing social media strategy, media production, campaign production, business planning, strategic marketing and crowdfunding expertise - IndieFund.It is committed to small business crowdfunding success.
CrowdBrewed.com is a donation / reward crowdfunding platform for craft brewers and industry affiliates who want to raise money for their breweries, to add new beers to their catalog, pitch a product and to spread the word to the "crowd". Brewers and industry affiliates can create fundraising campaigns that tell their story and pitch their campaign to a "crowd" of donors in exchange for a reward or product. CrowdBrewed is also a place to discover new beers, learn about brewing and show your passion for the industry by getting involved.