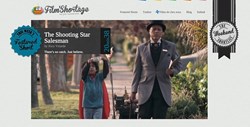 The crowdfunding project is currently offering one lucky contributor the opportunity to 'shadow' the Emmy Award winning director/producer for two days.
Los Angeles, CA (PRWEB) September 05, 2013
Yahoo! Cortos has placed the spotlight on filmmaker Kico Velarde for his film, "The Shooting Star Salesman". Velarde's film has been officially selected by Yahoo! as their opening film for their 1st annual Latino Film Festival highlighting the Top 30 Latino Filmmakers for Hispanic Heritage Month.
Set in modern time, "The Shooting Star Salesman" is about a 19th century ageless Salesman (Yancey Arias) who has the magical ability to align individuals with their own unique shooting star to wish upon. His rare gift becomes a curse when he outlives his family, turning him into a recluse and breaking the magic of the shooting star machine. As he ventures out to restore people's belief in shooting stars, he picks up a curious 8-year-old tag along named Elijah (Elijah Velarde) who starts to question if perhaps it's the Salesman himself who needs to have his faith restored. An unlikely partnership is formed as they embark on a journey to restore the faith of humanity. As their friendship grows, the Salesman is torn between continuing his legacy or renouncing his magical gift for the chance to reunite with the family he lost a lifetime ago.
This is not the first time that Velarde's film has received accolades. FilmShortage.com, a website that provides a place to showcase the best short films in the world, previously chose "The Shooting Star Salesman" as their featured Short Film of the Week. Prior to that, the company had chosen the film trailer as one of the Top 5 Short Film Trailers for 2012.
Kico Velarde has a coloured film background with several nominations and awards, including a Camera d'Or nomination at Cannes International Film Festival as a producer on PVC-1 (2007), and more recently taking home an Emmy for Jay Leno's Garage.
Last month, Series Producers of the crowdfunded film comedy series, "Newlywed and Broke" announced that Kico will be joining the project as the main Director. Furthermore, the crowdfunding project is currently offering one lucky contributor the opportunity to "shadow" the Emmy Award winning director/producer for two days and three lucky people a 90 minute sit-down to discuss "their" project with Kico. For anyone who has ever been interested in getting into "The Biz", this is a dream come true (and it's fully tax-deductible).
Newlywed and Broke is a web series billed as a modern day "I Love Lucy".  Where "I Love Lucy" pulled back the curtain on a couple dealing with life in show business, "Newlywed and Broke" will pull the curtain back on a couple dealing with today's trying times of job loss and financial hardships… in hilarious ways! Each episode will expose laughter-inducing ways that the couple struggles to make and save money.
The goal of the company's Indiegogo campaign is to produce a TV quality web series that will first air on the Newlywed and Broke website. Once there is an established market for the show, the series will be pitched to networks like ABC, FOX, HBO etc.
The project is a sponsored project of Fractured Atlas, a non-profit arts service organization and contributions are tax-deductible to the extent permitted by law.
John-Michael Scott, Crowdfunding Campaign Manager of IndieFund.it and Philip Cardwell, Crowdfunding Campaign Promoter for Universal Media Consultants are actively working on the series crowdfunding project.
About The Companies
IndieFund.it is a boutique creative agency providing crowdfunding campaign management services as well as assisting crowdfunders in the development and delivery of a well-founded campaign model. The company assists in all facets of campaign definition, planning, pre-launch, launch and post-launch activities. Bringing together a best in class team providing social media strategy, media production, campaign production, business planning, strategic marketing and crowdfunding expertise - IndieFund.It is committed to small business crowdfunding success.
Universal Media Consultants is an advertising and marketing agency that provides crowdfunding promotion. The company is highly active in the crowdfunding space and is providing advertising and marketing services to a wide range of crowdfunding projects at no initial costs to the client.
Fractured Atlas is a non-profit arts service organization that empowers artists, arts organizations, and other cultural sector stakeholders by eliminating practical barriers to artistic expression, so as to foster a more agile and resilient cultural ecosystem.