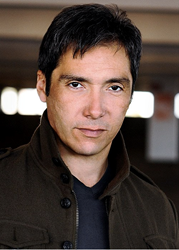 Our crowdfunding campaign is almost halfway funded, but we still need the public's help to make this series a reality
Los Angeles, CA (PRWEB) August 14, 2013
Series Producers, Reko Moreno and Kat Castaneda have announced that Benito Martinez will be joining the cast of actors in the new and upcoming crowdfunding film comedy series, "Newlywed and Broke". Martinez is well-known for his role as David Aceveda in FX Networks' acclaimed crime drama The Shield and currently appearing as "Luis Torres", a member of a Mexican drug cartel, in FX Networks hit show "Sons of Anarchy".
Newlywed and Broke is a web series billed as a modern day "I Love Lucy".  Where "I Love Lucy" pulled back the curtain on a couple dealing with life in show business, "Newlywed and Broke" will pull the curtain back on a couple dealing with today's trying times of job loss and financial hardships… in hilarious ways! Each episode will expose laughter-inducing ways that the couple struggles to make and save money.
The goal of the company's Indiegogo campaign is to produce a TV quality web series that will first air on the Newlywed and Broke website. Once there is an established market for the show, the series will be pitched to networks like ABC, FOX, HBO etc.
In addition to the series, the show's website will feature 52 Youtube style videos called, "Broke Tip Tuesdays". Each week, these videos will provide viewers great money-saving tips by covering subjects such as "Broke Dating", "Broke Cooking", "Broke Travel" and many more. The crowdfunding campaign page is currently offering project supporters the opportunity to share their stories and broke tips, some of which will end up in future episodes.
"We've been huge fans of Benito, ever since we saw him on "The Shield", and simply thrilled to be working with such a talented person. On a side-note, even though he plays a lot of dramatic roles, the dude is seriously funny, seriously!," Stated Newlywed and Broke Creators, Reko Moreno and Kat Castaneda.
"Since we began this project, we have been overwhelmed by the enthusiasm and support that we have received from journalist, bloggers and fans. We're fielding questions and doing media interviews on a daily basis. It's a familiar tale for all of us.  Relationship or not, everyone can grow nostalgic over at least a few ridiculous things they did when they were broke, and we believe it's the shows broad appeal that is responsible for this interest. Our crowdfunding campaign is almost halfway funded, but we still need the public's help to make this series a reality," concluded Moreno and Castaneda.
"I'm excited to work with the creators of Newlywed and Broke on their new comedy series," stated Benito Martinez.
Benito Martinez is most known for his roles as police captain (later city councilman) David Aceveda, in FX Networks' acclaimed crime drama The Shield and as "Luis Torres", a member of a Mexican drug cartel, in FX Networks hit show "Sons of Anarchy".
Martinez has also appeared in the hit show "24" starring Kiefer Sutherland; "The Blood Line", the finale of Torchwood's fourth series; the popular CW series, Supernatural; "Saving Grace"; the critical and commercial hit film Million Dollar Baby and has voiced numerous video games.
Martinez trained at the London Academy of Music and Dramatic Art (LAMDA) in Earls Court, London, United Kingdom and holds an advanced certificate in stage combat that he obtained during his studies there.
Reko Moreno, plays Stan Miguelles in the series. Moreno is also the series producer, director and one of the writers.
Moreno's "Newlywed" partner, Mia Miguelles, will be played by actress, writer, director and series producer Kat Castaneda.
Others involved with the show are; Dan Sutton - one of The Leads of the new NBC show, "Siberia" and Blair Dickens, the Producer of the up coming web series "Henchmen".
The Newlywed and Broke crowdfunding project is being managed and marketed by crowdfunding campaign manager, John-Michael Scott and crowdfunding campaign promoter, Philip Cardwell. Scott is the founder of Indiefund.it and Cardwell is the founder of Universal Media Consultants. This project marks the first time that the two companies have collaborated on a crowdfunding film project.
The project is a sponsored project of Fractured Atlas, a non-profit arts service organization and contributions are tax-deductible to the extent permitted by law.
About The Companies
IndieFund.it is a boutique creative agency providing crowdfunding campaign management services as well as assisting crowdfunders in the development and delivery of a well-founded campaign model. The company assists in all facets of campaign definition, planning, pre-launch, launch and post-launch activities. Bringing together a best in class team providing social media strategy, media production, campaign production, business planning, strategic marketing and crowdfunding expertise - IndieFund.It is committed to small business crowdfunding success.
Universal Media Consultants is an advertising and marketing agency that provides an innovative way for clients to gain maximum exposure for their message. Currently, the company is highly active in the crowdfunding space and is providing advertising and marketing services to a wide range of crowdfunding projects at no initial costs to the client.
Fractured Atlas is a non-profit arts service organization that empowers artists, arts organizations, and other cultural sector stakeholders by eliminating practical barriers to artistic expression, so as to foster a more agile and resilient cultural ecosystem.