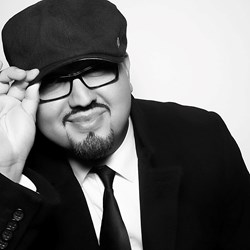 That same year, Kico took home his very first Emmy for "Jay Leno's Garage", following that up with two more Emmy Nominations in 2012 and 2013.
Los Angeles, CA (PRWEB) August 19, 2013
Series Producers, Reko Moreno and Kat Castaneda have announced that Kico Velarde will be joining the upcoming crowdfunding film comedy series, "Newlywed and Broke" as the main Director of the project. Velarde comes with years of experience and an Emmy win. He is also a Supervising Producer of Jay Leno's garage on NBC.com.
Newlywed and Broke is a web series billed as a modern day "I Love Lucy".  Where "I Love Lucy" pulled back the curtain on a couple dealing with life in show business, "Newlywed and Broke" will pull the curtain back on a couple dealing with today's trying times of job loss and financial hardships… in hilarious ways! Each episode will expose laughter-inducing ways that the couple struggles to make and save money.
The goal of the company's Indiegogo campaign is to produce a TV quality web series that will first air on the Newlywed and Broke website. Once there is an established market for the show, the series will be pitched to networks like ABC, FOX, HBO etc.
In addition to the series, the show's website will feature 52 Youtube style videos called, "Broke Tip Tuesdays". Each week, these videos will provide viewers great money-saving tips by covering subjects such as "Broke Dating", "Broke Cooking", "Broke Travel" and many more. The crowdfunding campaign page is currently offering project supporters the opportunity to share their stories and broke tips, some of which will end up in future episodes.
"The "Newlywed and Broke" project continues to be an exciting ride for us. When we began the project, we had no idea that crowdfunding a project would be a full-time job. In the end, we believe that the project will be well-worth the effort. We want to bring the viewers something fresh and different and we are assembling a very strong group to make sure that we achieve that goal," Stated Newlywed and Broke Creators, Reko Moreno and Kat Castaneda.
"I was fortunate enough to meet Kico while he was still shooting his award winning short film "The Shooting Star Salesman". Ever since then I have wanted to work with him and now I am lucky enough to say he's part of our Newlywed and Broke TEAM. We are super excited to have him on board," concluded Moreno.
"The Newlywed and Broke project is coming together so well. The quality of talent attaching themselves to the series is remarkable. Just last week it was announced that Accomplished actor, Benito Martinez would be joining the cast. Martinez is well known for many roles, including his role in FX Networks' acclaimed crime drama "The Shield" and in FX Networks hit show, "Sons of Anarchy". They talent for a network quality series certainly there. The only remaining hurdle is for the public to visit the show's Indiegogo crowdfunding campaign and make sure that show becomes funded," stated Universal Media Consultants Founder and crowdfunding campaign promoter, Philip Cardwell.
"I am really excited to be a part of Newlywed and Broke, this comedic series comes at the an opportune time. Many Americans are feeling the economic struggles of today, but this show will bring a light heartedness to this issue and inspire hope. Kat and Reko are on the verge of creating a ground-breaking new series that will pioneer the transmedia storytelling model," stated Velarde.
Kico Velarde brings a wealth of experience to the Newlywed and Broke project. Having been an editor on projects for companies such as NBCUniversal, Deluxe Digital Studios, Technicolor, HGTV, Olmos Productions, and IFC. In addition, Kico has produced two Internationally Acclaimed and Award Winning feature films: 2007 Director's Fortnight (Cannes International Film Festival) Camera d' Or nominated "PVC-1" and the 2012 Berlin International Film Festival Golden Bear nominated "Meteora".
In 2011, Kico was tapped by NBCUniversal to join the producing team of Jay Leno's web-series "Jay Leno's Garage". That same year, Kico took home his very first Emmy for "Jay Leno's Garage", following that up with two more Emmy Nominations in 2012 and 2013.
Taking a leap of faith to follow his ultimate dream, Kico switched hats once again and made his directorial debut with the short film "The Shooting Star Salesman", which made it's premiere at the 2012 New York International Latino Film Festival presented by HBO and was voted "Film of the Year" by the Georgia Latino Film Festival in November of 2012. In 2013, "The Shooting Star Salesman" won the "Best Narrative Short Film" award from the Reel Rasquache Art and Film Festival and was nominated for an Imagen Award for "Best Theatrical Short Film".
Kico's credits also extends to music videos as well. He has worked with Director Djay Brawner as Editor on the Foo Fighter's Music Video "Rope", which aired on FuseTV in June of 2011.
The project is a sponsored project of Fractured Atlas, a non-profit arts service organization and contributions are tax-deductible to the extent permitted by law.
About The Companies
IndieFund.it is a boutique creative agency providing crowdfunding campaign management services as well as assisting crowdfunders in the development and delivery of a well-founded campaign model. The company assists in all facets of campaign definition, planning, pre-launch, launch and post-launch activities. Bringing together a best in class team providing social media strategy, media production, campaign production, business planning, strategic marketing and crowdfunding expertise - IndieFund.It is committed to small business crowdfunding success.
Universal Media Consultants is an advertising and marketing agency that provides crowdfunding promotion. The company is highly active in the crowdfunding space and is providing advertising and marketing services to a wide range of crowdfunding projects at no initial costs to the client.
Fractured Atlas is a non-profit arts service organization that empowers artists, arts organizations, and other cultural sector stakeholders by eliminating practical barriers to artistic expression, so as to foster a more agile and resilient cultural ecosystem.