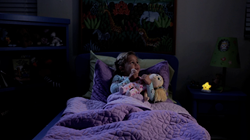 These fun and cuddly characters will light up the bedroom when you squeeze their hand.
Hollywood, FL (PRWEB) February 12, 2014
Starshine Kids has developed a revolutionary concept to help eliminate children's fear of the dark. The company's products, known as "The Starshine Kids", are plush boy and girl character dolls that come with a wireless star nightlight/flashlight. When a child is afraid of the dark or wakes up from a bad dream, they simply squeeze the dolls hand. The doll transmits a wireless signal that lights up the accompanying star nightlight/flashlight on the child's dresser or nightstand. The star will operate up to fifteen feet away from the doll and there are no wires or cords for parents to worry about.
Fear of the dark, known as Nyctophobia, is one of the most common phobias in children. In many cases, childhood Nyctophobia passes as the child matures. In older children and adults, however, the phobia can become crippling. Fear of the dark is usually not fear of darkness itself, but fear of possible or imagined dangers concealed by darkness. Most observers report that fear of the dark seldom appears before the age of 2 years. The fear usually develops when a child is old enough to have an imagination, but is not yet old enough to distinguish fantasy from reality. It's that "disconnect" between fantasy and reality, that lead serial entrepreneur Thelma Petas to invent The Starshine Kids.
"I was a child who suffered with night terrors," says Starshine Kids creator Thelma Petas. "I wanted to give children something they could use to take control of their environment and ease their fears. By giving the child control, we can remove their fear. We are using Kickstarter crowdfunding for the launch and believe this project is perfect for people who want to see these dolls brought to life. Not only are the incentives we offer amazing, but we can work together to help make the night time peaceful for children, the way it should be."
A video describing the Starshine Kids dolls, the concept of their use, where they may be purchased and how they will work to make night time peaceful and fun for children, can be found on Kickstarter at:
https://www.kickstarter.com/projects/1257145154/starshine-kids-plush-doll-and-nightlight-for-boys.
"I'm honored that Thelma chose Crowdfunding Accelerator to help market her Kickstarter project. I have no doubt that the Starshine Kids crowdfunding project will overshoot its funding goal. First of all, it's a fantastic product that will help children around the world overcome their fear of the dark. In addition, the product's visual appeal and price point make it highly desirable and affordable," stated Philip Cardwell, co-founder of Crowdfunding Accelerator.
About The Companies
Thelma Petas is the creator of Starshine Kids and the Chief Executive Officer of Starshine Kids Marketing, Inc. She holds a B.A. in Psychology from the University of Toledo as well as a B.A. in Metaphysical Studies from Delphi University. An entrepreneur, Mrs. Petas owns a construction company in South Florida and has worked as a counselor for Family Services in Ohio. Her goal with the Starshine Kids is to empower children and alleviate nighttime phobias and fears.
The Starshine Kids management team combines more than (75) years of experience in marketing and toys, giving the future of the Starshine Kids dolls a bright forecast. It includes Larry Bernstein, the former president of Hasbro Toy Group and executive VP of Hasbro, Inc. as well as Tim Bush, the group president of NPD Asia and Jim Shobe, former vice president of sales with McFarlane Toys. The management team already has established relationships with major retailers like Wal-Mart, K-Mart, Toys-R-Us and Target, and the toys will be mass-manufactured and distributed to these and other major retailers. For more information, visit http://www.starshinekids.com/.
Crowdfunding Accelerator is a professional, creative team of crowdfunding campaign management, marketing, PR and advertising specialists. Crowdfunding Accelerator personnel have a combined 19 years of experience producing high-quality crowdsourcing and crowdfunding campaigns of every type and scale for small businesses and large enterprises. The company's passion is managing the behind-the-scenes details to deliver a superior campaign experience for your audience. The principle founders of the company are Philip Cardwell (of Universal Media Consultants) and John-Michael Scott (of IndieFund.it). For more information, visit http://www.crowdfundingaccelerator.com/.