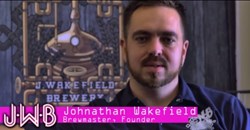 We love craft beer and have seen first hand the support that the craft beer community can rally.
Miami, FL (PRWEB) September 16, 2013
The J Wakfield Brewing crowdfunding campaign, being run on the crowdbrewed.com platform, continues to smash records. Based on the speed in which the campaign reached its initial goal and the amount of funds raised, the campaign will achieve the highest level of funds raised in the shortest period of time in craft beer crowdfunding campaign history.
"This is exactly why we created and started CrowdBrewed", said Mark Slattery, Chief Marketing Officer of CrowdBrewed. "We love craft beer and have seen first hand the support that the craft beer community can rally. It's a tight-knit community that will go out of its way to support their brothers and sisters brewing great beer in North America."
"Ever since we first met Johnathan at the West Palm Beach Brew Fest, we knew that we'd do everything in our power to help him achieve his goals. Not only are his beers some of the best in the country, but he's a great guy that has become friend to us, and we're just as excited as I'm sure he is about his success", continued Slattery.
The campaign has been so successful that it fully funded the original goal of $55,000 within the first 24 to 48 hours. The funding level is now approaching $100,000. While it is not likely to occur, theoretically if this rate of funding were to continue, the crowdfunding campaign would raise close to a million dollars. This level of success is sure to raise the attention of larger brewing corporations, as well craft beer makers looking for the right crowdfunding platform for their project.
"From a marketing perspective, we did our best to hit the right demographics, and worked with Johnathan to come up with the best rewards that his growing number of followers and other craft beer enthusiasts were just waiting to snatch up. If this is any indication, J Wakefield Brewing will be a household name in the US in no time."
"We've still got some once-in-a-lifetime collaboration brewing opportunities with the likes of Wayne Wambles from Cigar City Brewing and Jeppe Jarnit-Bjergsø from Evil Twin Brewing up as rewards. Nothing like this has ever been offered up to the general public before, and we're thrilled to offer such exciting opportunities on CrowdBrewed." Slattery concluded.
What will Wakefield do with the excess funds? With the excess funds already raised, he is planning to upgrade the taproom with an improved bar, better seating and additional amenities that will keep his customers as comfortable as possible. The next step will be to add another fermentor, which will raise his brewing capacity allowing for more special beers, and create a "barrel program" to acquire used barrels to age their beer, again allowing for more unique and special beers.
The campaign has been so successful, selling out of many of the popular campaign perks, that Johnathan intends to create and offer contributors additional perks over the next few days.
About The Companies
CrowdBrewed.com is a donation / reward crowdfunding platform for craft brewers and industry affiliates who want to raise money for their breweries, to add new beers to their catalog, pitch a product and to spread the word to the "crowd". Brewers and industry affiliates can create fundraising campaigns that tell their story and pitch their campaign to a "crowd" of donors in exchange for a reward or product. CrowdBrewed is also a place to discover new beers, learn about brewing and show your passion for the industry by getting involved. USA TODAY has touted the company as "the first-ever crowdfunding site designed specifically for craft beer entrepreneurs."
Universal Media Consultants is an advertising and marketing agency that provides crowdfunding promotion. Philip Cardwell, the company's Founder, is highly active in the crowdfunding space and is providing advertising and marketing services to a wide range of crowdfunding projects at no initial costs to the client.